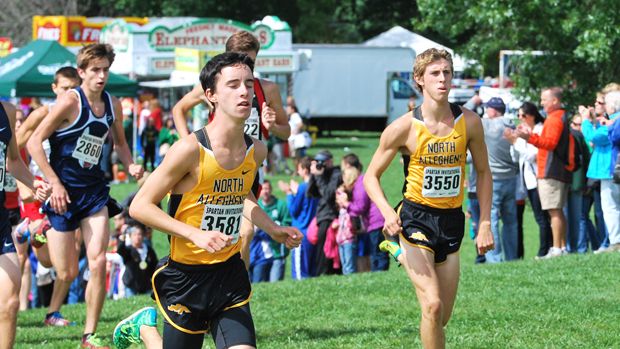 McGoey, Wharrey Finish 2nd & 3rd At Boardman Invitational
A week after winning the Red, White and Blue Classic, senior Matt McGoey took second place at the Boardman (Ohio) Spartan Invitational on Saturday, leading the North Allegheny Boys to a fourth place showing in the Division I standings. McGoey finished with a time of 15:41.5, followed closely by senior teammate Hunter Wharrey who claimed third place with a time of 15:44.5 in a field of 332 finishers. The NA Boys ended the day with a team score of 136, just 33 points behind the first place team at the invitational, Lake-Uniontown.
For the Lady Tigers, junior Madeleine Davison did not defend her individual title as she was taking the ACT, but two of her teammates had impressive top 20 performances. Freshman Clara Savhick was 12th in the Division I girls' race with a time of 19:23.2, and sophomore Maddie Steiner took 17th by checking in at 19:51.3. The Lady Tigers took fifth in a 34-team field.
The North Allegheny Cross Country Teams return to action on Tuesday with a road contest against Hampton and Mars.
(Photo courtesy of PA Trax)