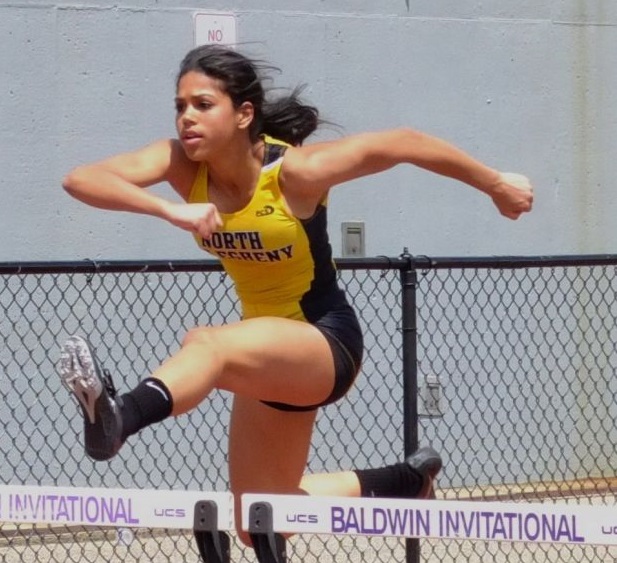 Melina Owens MVP at Lady Spartan/Wildcat Invitational
Delayed due to inclement weather, the Tigers traveled to Latrobe on Saturday instead of Friday to compete in the Lady Spartan/Wildcat Invitational.  The weather was outstanding, as were the Tiger performances.  The girls completed the day with a runner –up team trophy.  19 girls medaled for NA, including Melina Owens, who was chosen the  Female MVP of the meet on the track.
Melina won the High Hurdle race, placed second in the 300m Hurdles, and was a leg of the winning 4x100m Relay team with teammates Rachel Giger, Makena Owens, and Casey Burton.  Burton additionally medaled by winning the 100m Dash and Long Jump events.  Earning 6th place medals for the sprinters were Aimee Verardi and Emily Naughton in the 200m and 400m Dashes. The distance crew raced well as Janet Wang placed 4th in the 800m.  The 1600m was dominated by the Tigers with Clara Savchik, Caroline Daggett, and Hannah Lindgren medaling 2nd, 5th, and 6th, respectively.  Leah Mensch and Jenna Mlecko finished 2nd and 3rd in the 3200m Run.  In the field events Taylor Bertini jumped for a 4th place Triple Jump, Vittoria LaRosa pole vaulted for a 2nd place performance, and freshman Jill Williams earned a 6th place medal in the High Jump.
The first medal earned for the boys came from the result of Ethan Sansosti, Cam Phillips, Luke Turkovich, and Christian Parreaguirre finishing 3rd in the 4x800m Relay.  Top performances from the boys' came from freshman Daniel McGoey with a 2nd place performance in the 3200m Run and Richie Pajak 2nd in the High Jump.  Senior Jake Fritsch captured a 3rd place and 6th place medal in the Javelin and Shot Put.  Christian Parreaguirre raced himself to a 4th place medal in the 400m Dash, and Jacob Greco also medaled 4th in the 3200m Run.  Evan Mee was able to leap onto the podium with a 6th place finish in the Triple Jump.  The team placed 6th overall.
The Tigers host arch rival Butler this Tuesday at Newman Stadium.
(Photo by William McBride, PA Mile Split.com.)