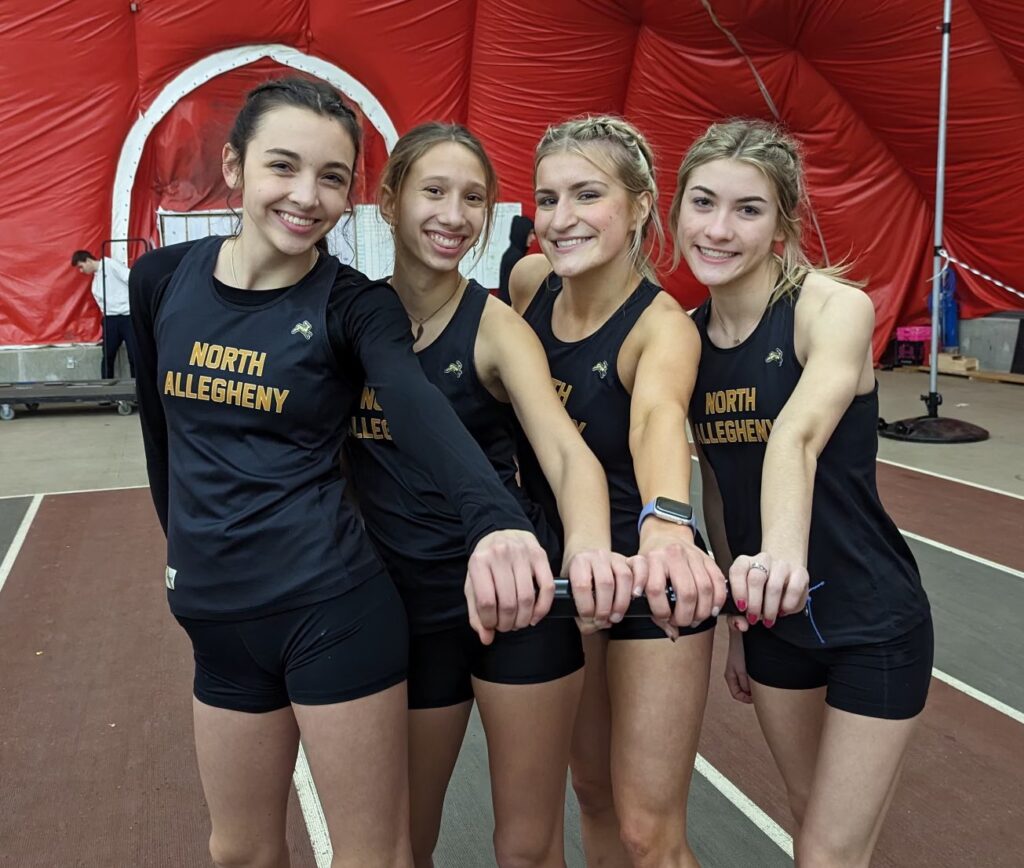 More School Records Broken At TSTCA Meet #4
It was another record-breaking day for the North Allegheny indoor track and field team at TSTCA Meet #4 at Edinboro University.
Just two weeks after breaking the school record in the 4×400 relay, a new mark was set by the Tigers in the same indoor track season. The quartet of Ginger Tegtmeier, Isabella Costa, Mackenzie Winning and Chloe Reed clocked in a time of 4:09.51 to set a new school best in the event. The time was also good for first place.
Additionally, Maya Currie broke the freshman school record in the 200m dash with a time of 26.99 and Lindsay Breneman broke the freshman school record in the pole vault with a leap of 10-7. Both Currie and Breneman took second place in their respective events.
Other impressive performances for the Lady Tigers included complete dominance in the 3000m run. Wren Kucler took second place with a time of 10:02.47, followed consecutively by Robin Kucler in third place, Eva Kynaston in fourth place, Erin McGoey in fifth place and Grace Rowley in sixth.
Third place medals were garnered by Currie in the 60m dash, Costa in the 400m dash and Sophie Aglietti in the pole vault. Taking fourth place in the pole vault was Delaney Tedesco.
The North Allegheny boys' team was also impressive, highlighted by a first-place effort in the 3000m run by Jack Bertram with a time of 8:37.47. The Distance Relay combo of Gregory Kossuth, Michael Gauntner, Jackson Pajak and Bertram took second place with a time of 10:56.71. Grabbing third-place in the Shot Put was Kaden Velazquez with a throw of 45-6. Solid fourth-place showings by A.J. Foulk in the 60m hurdles, Jax Wilhite in the High Jump and Kossuth in the 3000m run were also provided by the NA Boys.
For a full look at results from TSTCA Meet #4, click here.
North Allegheny will look to build on its outstanding performances next week at the TSCTA Indoor Track and Field championships on Saturday, Feb. 18.