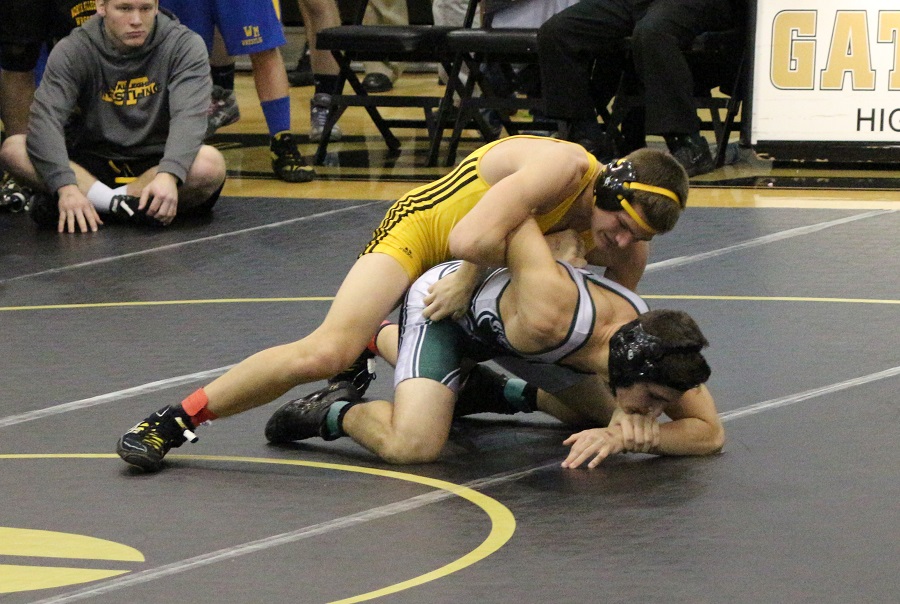 More Success For NA Grapplers In Day Two At Hershey
Jake Woodley, Jake Hinkson and Francis Duggan all advanced into the third and final day of the PIAA individual wrestling tournament in Hershey. Woodley pulled off a majestic win at 182 pounds with a 5-3 decision over top-seed Kyle Gentile of Pennridge in the quarterfinals. Woodley moves on to face Drew Peck (37-5) of Chambersburg in the semifinals tomorrow.
At 138 pounds, Hinkson picked up a couple of wins in the consolation bracket to advance into tomorrow's action. Hinkson earned up a 5-2 decision over Micah Hoffman of Northern York in his second round consolation bout. In the third round of the consolation bracket, Hinkson edged Riley Palmer of Council Rock South, 6-5.
Duggan mowed through his two opponents at 195 pounds to continue on to day three. In his second round consolation match, Duggan beat Ian Malesiewski of Cathedral Prep by a 7-2 decision and followed that up with a third round consolation victory over Brian Kennedy of Upper Darby by an 8-2 decision.
The PIAA tournament runs of Jacob Downing (106), Luke Landefeld (126) and A.J. Boeh (145) all came to a conclusion on Friday. For a look at all of NA's results on day two, see below.
The Class AAA PIAA individual wrestling tournament continues tomorrow morning at 9:00 am at the Giant Center in Hershey. You can follow all the live action with our friends at WJPA Radio by clicking here.
PIAA Class AAA Wrestling Championships - Day Two
Friday, March 11 at Giant Center, Hershey, PA
| Weight | Wrestlers | Score |
| --- | --- | --- |
| 106 - 2nd Consolation | Jarod Loose (Hempfield) maj. dec. Jacob Downing (NA) | 9-0 |
| | | |
| 126 - 2nd Consolation | Luke Landefeld (NA) dec. Cole Rush (Waynesburg) | 3-2 |
| 3rd Consolation | Ethan McCoy (Latrobe) dec. Luke Landefeld (NA) | 1-0 |
| | | |
| 138 - 2nd Consolation | Jake Hinkson (NA) dec. Micah Hoffman (Northern York) | 5-2 |
| 3rd Consolation | Jake Hinkson (NA) dec. Riley Palmer (Council Rock South) | 6-5 |
| | | |
| 145 - 2nd Consolation | A.J. Boeh (NA) pinned Ronald Nguyen (Dieruff) | 2:22 |
| 3rd Consolation | Edmond Ruth (Susquehanna Twp) dec. A.J. Boeh (NA) | 7-6 |
| | | |
| 182 - Quarterfinals | Jake Woodley (NA) dec. Kyle Gentile (Pennridge) | 5-3 |
| | | |
| 195 - 2nd Consolation | Francis Duggan (NA) dec. Ian Malesiewski (Cathedral Prep) | 7-2 |
| 3rd Consolation | Francis Duggan (NA) dec. Brian Kennerly (Upper Darby) | 8-2 |