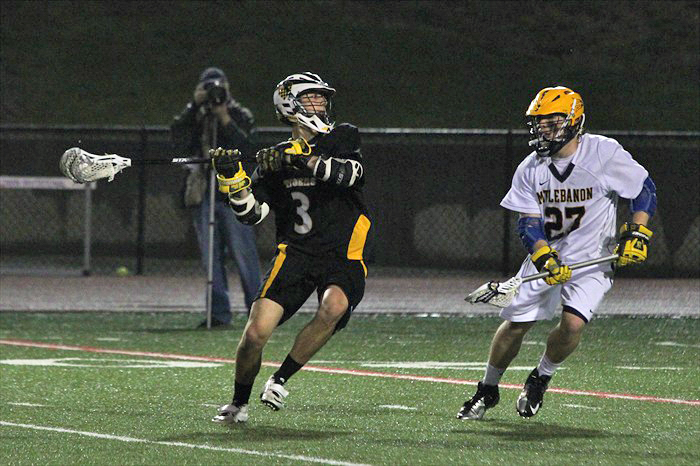 Mt. Lebanon Edges Tigers In Season Opener, 7-6
North Allegheny's Stephen Kelleher and Marty Hubert scored two goals apiece, but the reigning WPIAL Division I champion Mt. Lebanon Blue Devils outlasted the Tigers in the season opener on Monday night, 7-6. The game was a rematch of the 2013 WPIAL title game in which the Blue Devils edged the Tigers, 9-8. NA was unable to avenge last year's defeat but the Tigers certainly showed promise for a bright 2014 season with an admirable performance against a perennial lacrosse power.
The contest was a nip and tuck battle with neither team gaining more than a two goal lead at any point. The Tigers struck for a 2-0 lead in the first quarter on goals by Hubert and Kyle Rullan, but Mt. Lebanon answered back to tie the game at 2-2 with 11:18 remaining in the second period. Back-to-back goals by Kelleher gave the Tigers a two-goal advantage at 4-2 with 7:35 left in the first half.  However, the Blue Devils again responded in kind with two goals by Brian Kelly and the score was evened, 4-4, at halftime. Kelly finished with a hat trick for the Blue Devils.
After trading goals in the third period, the score was knotted at 5-5 heading into the fourth quarter. Two quick goals by Brian Ward and Sam White put the Blue Devils ahead, 7-5, with 9:08 left to play.  North Allegheny didn't go away quietly and made things interesting with a Nick Koebley marker with 1:46 remaining in regulation, cutting the score to 7-6, Mt. Lebanon.  Despite the late charge, the Tigers were unable to force overtime and fell one goal short in the season opener in the South Hills.
Senior John Abbondanza earned the start in net for the Tigers and made eight saves.  Face-off man Zach Smith was 9 for 14 on draws. Alec McGovern helped keep the Tigers in possession with a team-high seven ground balls.  Helping on the defensive end, Koebley, Greg Ferringer and Jesse Shaffer all tallied three forced errors from the Blue Devils' attack.
North Allegheny hopes to rebound on Wednesday night with a visit to Butler to face the Golden Tornado.  Opening faceoff for the Section 2 clash is slated for 7:30 pm.