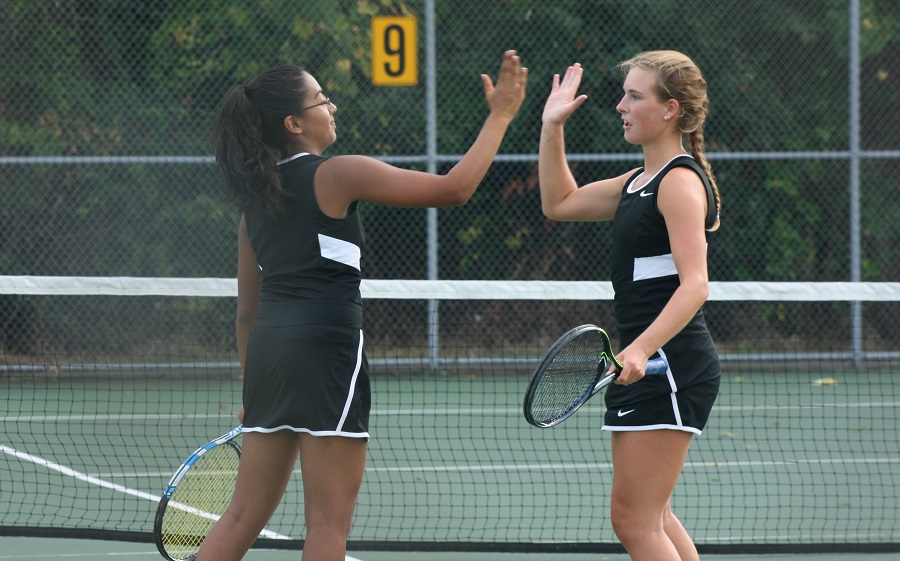 NA Beats Rain, Montour To Advance To WPIAL Semifinals
The North Allegheny girls' tennis team earned a rain-shortened victory on Friday afternoon, 3-1, over the Montour Spartans to advance to the WPIAL semifinals next week. The Spartans picked up a 6-2, 6-0 win from Isabela Paixan at No. 1 singles but it was their last of the day as the three-time reigning PIAA champs dictated the remainder of the action. At No. 2 singles, Tina Li topped Mercedy Hazlet, 6-2, 6-0. Sophomore Ashley Huang cruised to a 6-0, 6-0 sweep of Carly Bruscemi at No. 3 singles.
The No. 1 doubles match pitting NA's Rebekah Rest and Jenna Kolano against Montour's Isabella Sadowski and Alexis Bruscemi was halted due to rain. Fortunately, the No. 2 doubles contest came to a quick finish courtesy of Riya Yadav and Katherine Ambrose. The NA duo swept Kaitlyn O'Malley and Leah Hess, 6-0, 6-0, to close out the WPIAL quarterfinal win.
North Allegheny is now 18-0 on the season and section foe Pine-Richland in the WPIAL semifinals on Tuesday at 3:00 p.m. at North Hills High School. The Lady Tigers defeated the Rams earlier in the season, 4-1.
Girls Tennis Summary vs. Montour, 9-30-16
Match Summary

NORTH ALLEGHENY - 3
MONTOUR - 1
SINGLES
#1
Isabela Paixan (M) def. Anna Li (NA)
6-2, 6-0
#2
Tina Li (NA) def. Mercedy Hazlet (M)
6-2, 6-0
#3
Ashley Huang (NA) def. Carly Bruscemi (M)
6-0, 6-0
DOUBLES
#1
Rebekah Rest/Jenna Kolano (NA) vs. Isabella Sadowski/Alexis Bruscemi (M)
7-6 (7-30), 3-1 (Rain Out)
#2
Riya Yadav/Katherine Ambrose (NA) def. Kaitlyn O'Malley/Leah Hess (M)
6-0, 6-0