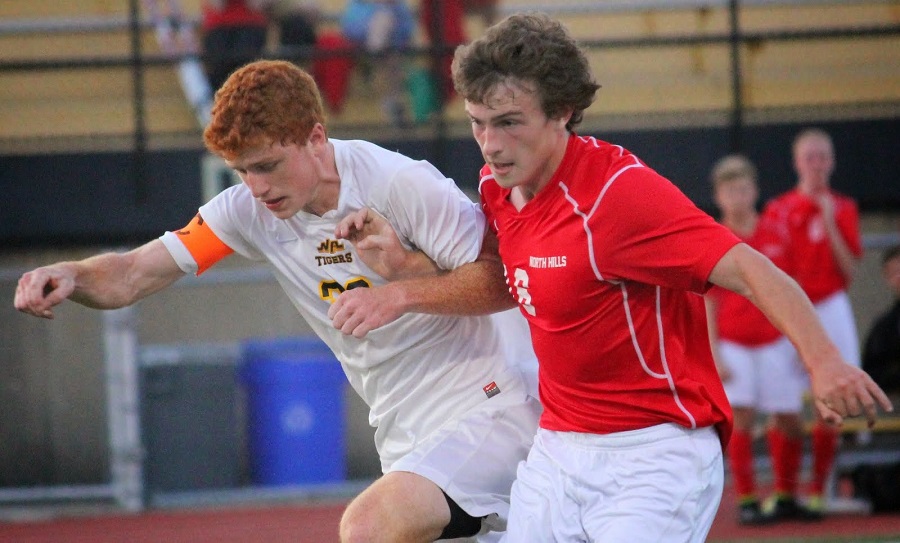 NA Blanks Bethel Park Ahead Of Senior Night
by Boys' Soccer Contributor
When two teams after 14 games enter the match with identical 8-5-1 records you would expect a close, hard fought game and that is exactly what the fans saw on Saturday night as the NA Tigers edged the Bethel Park Black Hawks, 1-0.
The game started with both teams giving the other free kicks on fouls and setting the physical tone for the evening.  At both the 31:52 and 29:27 marks, Josh Luchini found Bobby Upton in the Bethel Park defensive creases, but Upton was unable to capitalize on shots that went high and wide.  Bethel Park, at 30:37, 18:50 and 17:10 into the game had good opportunities, but couldn't put shots on frame.  At 5:27, Luchini crossed to Steve Binnig to the middle of the field and Binnig from 25 yards out hit the post leaving the game deadlocked at 0-0.  The first half was very even with both squads having five shots towards the net and, as usual, North Allegheny having a 2-1 corner advantage.
The second half started with the Black Hawks enjoying most of the possession, even having a goal disallowed at 39:14 because of a foul on the Black Hawks. NA goalie Luke Nolan denied BP with saves at 37:33 and 31:50 to keep the game scoreless.  The Hawks kept up the pressure and at 25:57 and 24:25 continued to pepper the net.  At the 18 minute mark, Binnig took a free kick from 25 yards out and bended the ball around the BP wall and into the net, giving the Tigers a 1-0 lead.  Nolan, at 16:15, made a crucial save and, at 8:35, Bethel Park sailed a header high from close range leaving NA in the lead. The balance of the game, though tense in the stands, was controlled by the Tigers and the horn sounded giving NA an impressive 1-0 victory in this out of section contest.
The defense all night kept Bethel Park away from the fray and hard work by Evan Gick, Alex Gill and Kevin Dougherty helped aid the team in limiting the Black Hawk possessions.
North Allegheny rights the ship with the victory and stops their two game losing streak with a 9-5-1 overall record. Senior Night is this Tuesday, October 7 at 7:30 at the Tigers Den in a home section match vs. Shaler. The Tigers can lock up a WPIAL Class AAA playoff berth with a victory.  The boys hope that you can come cheer them on and send off the seniors in grand fashion.