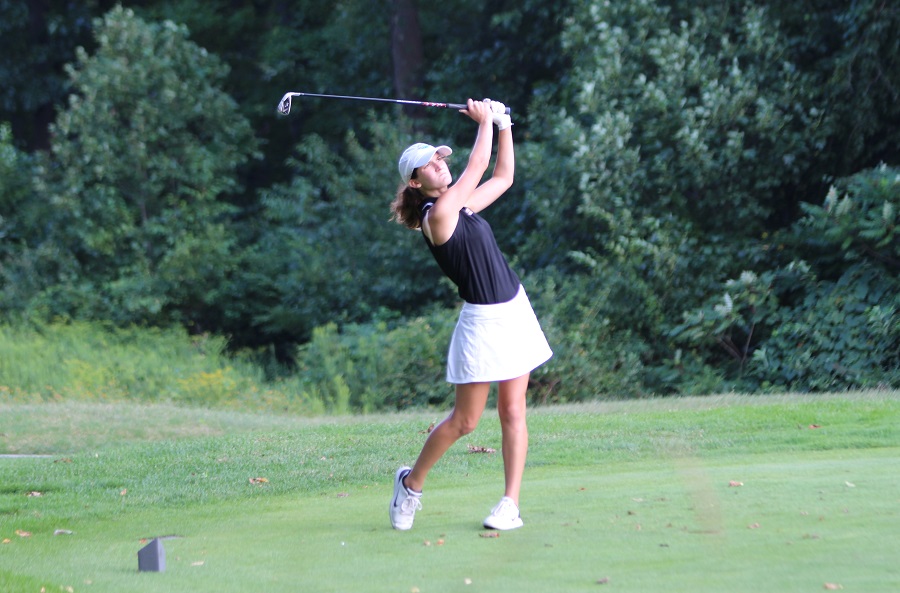 NA Bounces Blackhawk, 172-183
The winning streak increased to six in a row on Tuesday afternoon for the North Allegheny girls' golf team following a 172-183 victory over Blackhawk at Diamond Run Golf Course.
Junior Katie Rose Rankin was tied for the clubhouse lead with Blackhawk's Vanessa Matthews with a low score of 39. Junior Lauren Kardos shot a 43 and senior Sissi Hai followed with a 44. Sophomore Megan Manesiotis added a 46 to complete the victory.
The victory improves North Allegheny's record to 9-1 overall and 5-0 in section play. The Tigers visit Moon on Wednesday at 2:30 p.m. in another section contest.
Match Summary
NORTH ALLEGHENY - 172
BLACKHAWK - 183
NORTH ALLEGHENY
SCORE
BLACKHAWK
SCORE
Katie Rose Rankin
39
Jillian Mannarino
52
Lauren Kardos
43
Kaylee Huoy
45
Sissi Hai
44
Hailee Liptak
47
Megan Manesiotis
46
Vanessa Matthews
39
TOTAL
172
TOTAL
183
Jena Norman
58
Amber Roth
56
Niyati Cannanbilla
69
Mia Valentine
53
Kate Gilliland
53
Megan Gross
59