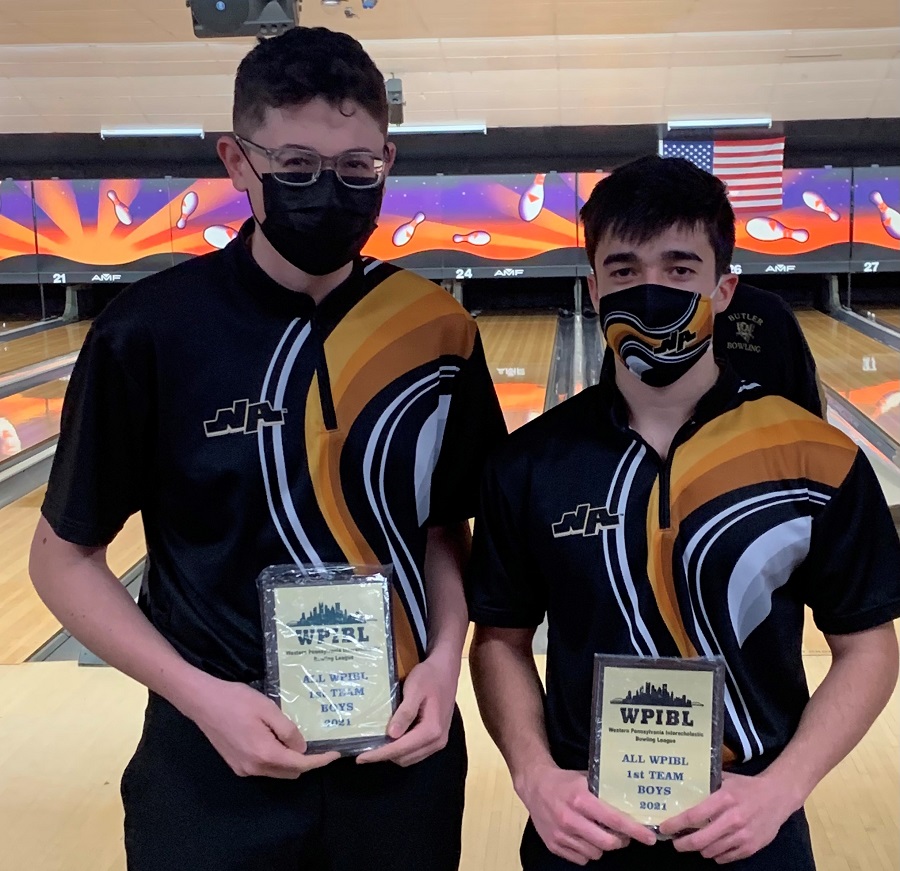 NA Bowlers receive WPIBL Recognition, Awards
Prior to the start of the Western Pennsylvania Interscholastic Bowling League Singles Championships this week, the WPIBL recognized select bowlers for their achievements from their regular season play.
There were 312 Varsity Boys competing in the WPIBL this season.
The top five bowers were honored with being selected to the FIRST TEAM ALL WPIBL.  Senior Dylan Scheidler and junior Jeb Jorden were named to this all-star team.
Scheidler and Jorden finished #1 and #2 in the North section of the WPIBL and both boys received an automatic bid and qualification into the Pennsylvania State Western Regional Singles Championships.
Based upon his performance throughout the 30-game season, Scheidler received the most points (based on season average, number of high games, number of high series, etc.) out of the 32 bowlers in the North section of the WPIBL.  He was awarded the title of WPIBL NORTH SECTION MVP.  Jorden received the 2nd highest number of points.
Scheidler also received one more accolade as he was recognized for having the 3rd HIGHEST SERIES in the entire WPIBL.  To put this into perspective, there were 48 teams competing this year with five bowlers per team.  During each week of competition, 240 3-games series are bowled within the league.  A 10-week season results in 2400 series bowled by the end.  Scheidler had one of the three highest series bowled.
Congratulations to Dylan and Jeb!