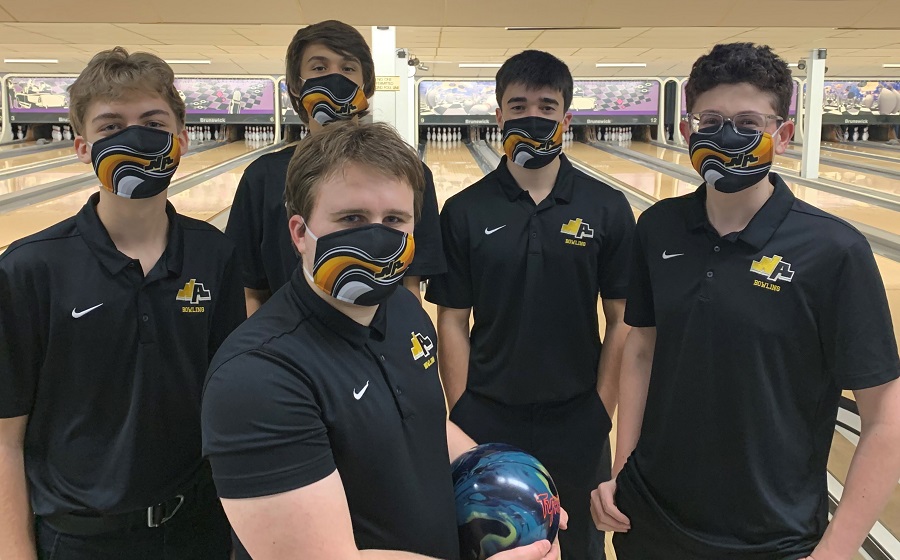 NA Boys Continue Unbeaten Streak With Win At Shaler
The Tigers returned to match play on Wednesday to take on the Shaler Titans for the second time this year.  Much like the first meeting, the Tigers proved to be too much for the home team.
NA jumped out to an early lead and never looked back.  Senior Andrew Cook threw 2 four-baggers towards his 243.  Joining the pursuit was senior Dylan Scheidler (225), freshman Cole Scott (221), and junior Jeb Jorden (215.)   North Allegheny won the first game 1092-816.
Cook handed over the reins to Scheidler in Game 2.  Scheidler threw two four-baggers himself, leading all bowers with a 233.  Jorden added a 201.  NA continued to dominate, 983-850.
For the second time this season, the Tigers dipped below the 1000-pin threshold during the second game of the match.  Once again, this proved to be the catalyst to spur the Tigers back on the prowl. Scheidler threw a wild turkey during Game 3 and ended the match with the highest game of the competition, 254.  Junior Gavin Rush added his name to the leaderboard with a 238.  All five Tigers banded together to throw a team and season high, 1114 pins (Scott-225, Jorden-206, and Cook-200.)  NA won the third game in a convincing fashion, 1114-863.
For the first time this season, all five bowlers from North Allegheny achieved 600+ pins for the day: Scheidler-712, Scott-635, Jorden-622, Rush-615, and Cook-614.
Winning all three games as well as the total pin fall, netted the Tigers a 7-0 victory, and a 3-0 record for the season.  During today's contest, NA knocked over a season high 3198 pins versus Shaler's 2529.  Shaler was led by Jonathon Zang's 609 series.  The Tigers remain the only unbeaten team in the WPIBL North.
As individuals, the Tigers also hold 7 of the top 8 positions in the WPIBL North.
Senior Alexis Robinson led the Lady Tigers with a high game of 200 and a series total of 499.
The next match for both the Boys and Girls teams is this Friday, January 15th as the Tigers travel to Raider territory to take on Seneca Valley. This is a make-up match that was originally scheduled for late December.