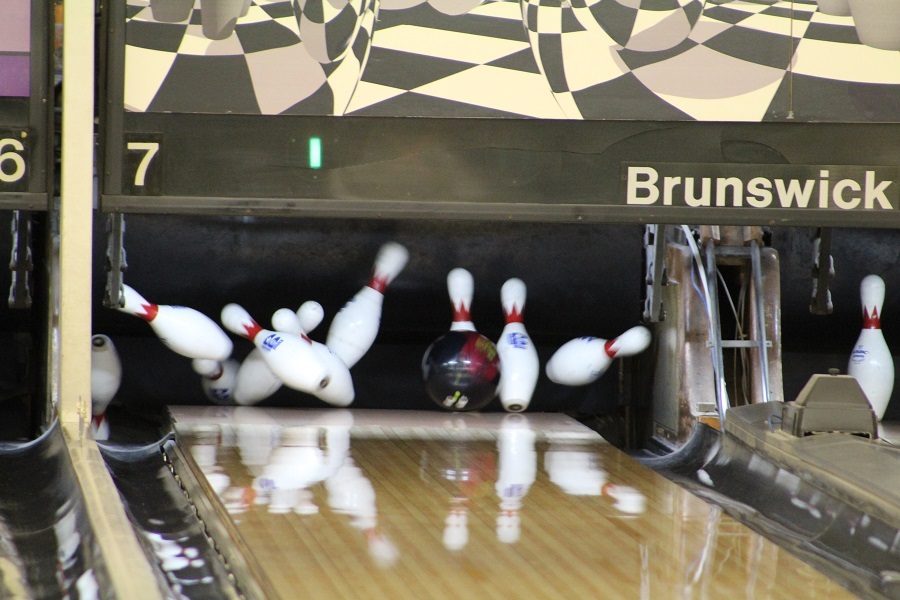 NA Boys Firing On All Cylinders
The Tigers returned to Deer Lakes Bowl this week, the foe, the Kiski Area Cavaliers.  The high volume of oil placed on the lanes last week proved daunting for the Tigers.  This week the Tigers came out prepared and focused; not allowing the challenging conditions to deter their objective.
Leading the Tigers in the charge was senior Jeb Jorden who started game 1 striking with a hambone in frames 1-4.  Sophomore Cole Scott joined in the joust adding a string of five strikes (Yahtzee!). Senior Marc Sostmann and sophomore Connor Peoples each added double strikes to the pin count.  Scott knocked over the most pins in the first game, finishing with a 213.  Close behind was Jorden (196) and Sostmann (195).  NA won game 1, 947-531.
Jorden led the assault in Game 2 starting off with a strike and another hambone.  Again, Sostmann joined the assault adding a second hambone in the offensive.  After a quick substitution, senior Gavin Rush served up a turkey.  Senior Noah Sostmann added a double in frames 7 and 8 and another in the 10th.  Scott also contributed a turkey to the festivities late in the game.  Atop the leaderboard were M. Sostmann (203), Jorden (201), and Scott (191).  Game 2 went to the Tigers, 949-551, extending their lead to +815 pins.
The Tigers finally hit their stride in the third game, with 4 of the 5 bowlers striking in the first frame.  Jorden turned his strike into turkey.  Working in tandem, Scott added another, followed by M. Sostmann, and then Rush. The turkeys were plentiful.  The Tigers were also able to throw a "star" frame when all five bowlers struck in the 5th frame.  Battling for the highest game of the day, Rush out maneuvered M. Sostmann 235 to 234.  Adding to the team total Jorden and N. Sostmann contributed a 198 and 192, respectively.  Finishing on a high note, the Tigers closed the door on the Cavaliers, 1021-546.
Winning all seven match points, the Tigers are 4-0 on the season heading into Winter Break.  The full team will be back in action in early January battling Shaler and Butler for control of the WPIBL North.
The Lady Tigers struggled to gain their footing against the home team.  Leading the Tigers was senior Morgan Maughan's 359.  After losing all three games: 358-700, 261-673, and 301-734, the Tigers fall to 1-3 in match play.