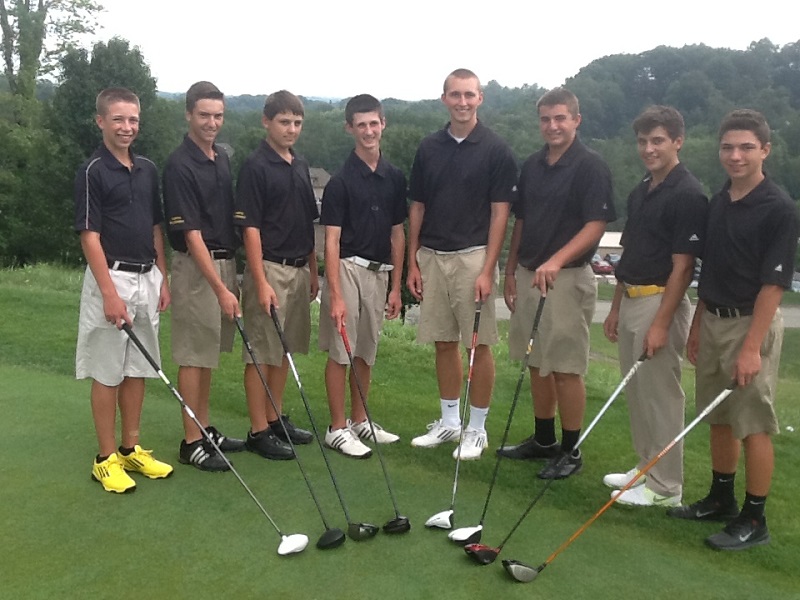 NA Boys' Golf Triumphs Over Indians In Final Section Match
The North Allegheny Boys Golf Team picked up a 205-223 win over the North Hills Indians at Shannopin Country Club on Tuesday afternoon.  In their final section match of the season, the Tigers were led by junior Josh Huhn who finished with a 38, the top score of the day. Freshman Ryan Dougherty took home a score of 41 while Connor Gingrich, Noah Wessel and Mike Sudo all finished with a score of 42.
North Allegheny finishes the section schedule with a mark of 11-1 and jumps to 16-2 overall. The Tigers wrap up the regular season with a visit to Fox Chapel on Thursday afternoon at 3:30 pm.
Match Summary

NORTH ALLEGHENY - 205
NORTH HILLS - 223
NORTH ALLEGHENY
SCORE
NORTH HILLS
SCORE
Martin Lazzaro
DNF
Colin Paulauskas
42
Connor Gingrich
42
Alex Bowen
52
Mike Sudo
42
Danny White
46
Josh Huhn
38
Ryan Smith
52
Ryan Dougherty
41
Johnny Stuckert
40
Noah Wessel
42
Andrew Paulauskas
43
TOTAL
205
223
David Mrazik
42
Ricky Fashion
50
Nick Longo
40
Nick Smith
48