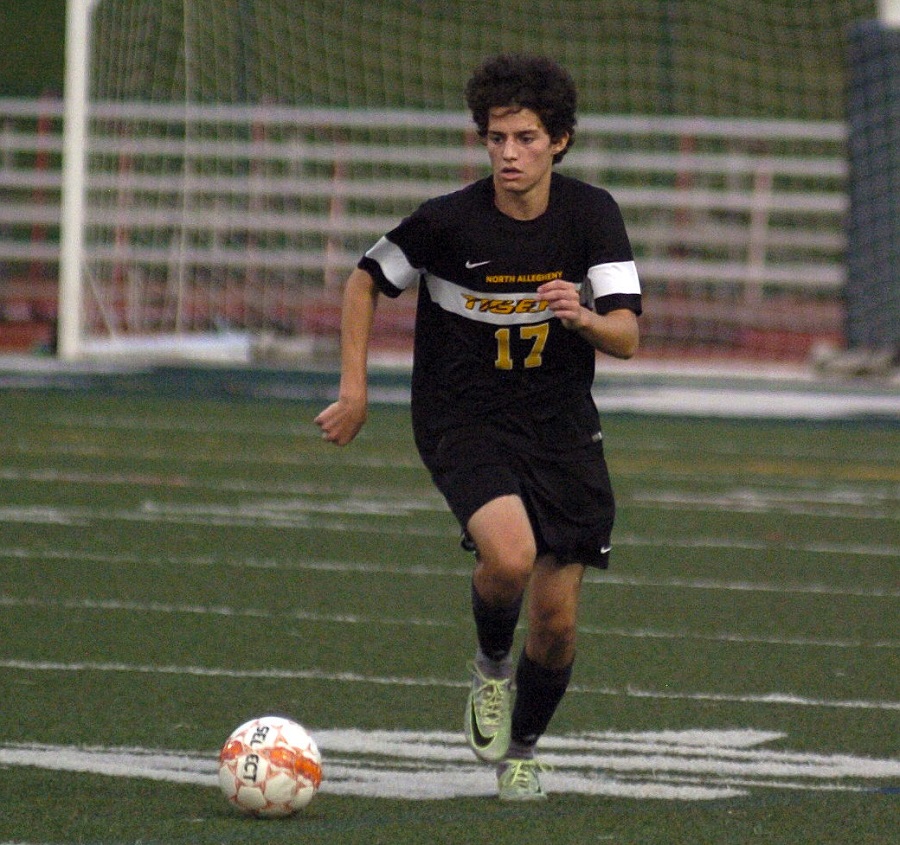 NA Boys' Soccer Blanks North Hills, 3-0
The NA Tigers continued their winning ways with a convincing 3-0 victory over the North Hills Indians at Martorelli Stadium on Thursday night.  Looking strong from the opening whistle, the Tigers controlled possession and kept North Hills pinned in its own end for much of the first half.  A strong move by Owen Leonard led to him being fouled in the box and awarded a penalty kick at the 31:44 mark but the North Hills keeper made a nice save to keep the game scoreless.
That didn't last long, however, as James Nolan scored off a nice assist from Leonard at the 25:43 mark to give the Tigers a 1-0 lead.  A little over one minute later, Leonard converted on a rebound at 24:34 to give the Tigers a 2-0 lead and they never looked back. The offense continued to exert pressure as Ben Cinker, Will Brunner, Cam Yurick and Josh Rouser were relentless in attacking the North Hills' goal. Not to be outdone, the defense and mid-field contributed to holding North Hills without a shot on goal in the first half.
The second half was more of the same as the Tigers kept the pressure on with Leonard getting his second goal of the game at the 5:59 mark off a nice assist from Roman Rainville.  Continued strong play by the defense led by Nick Williams, Christain Giannetti, Alex Goto, Sam Neal and Mike Morrissey, and by the mid-field led by Jack Passodelis and Sean Atwater, preserved the shutout for keeper Grant Glorioso.
The win moves the Tigers' section record to 3-0-2 and overall record to 6-0-3.  The Tigers take on perennial power Upper St. Clair at home on Saturday at 10 a.m. in a non-section contest.