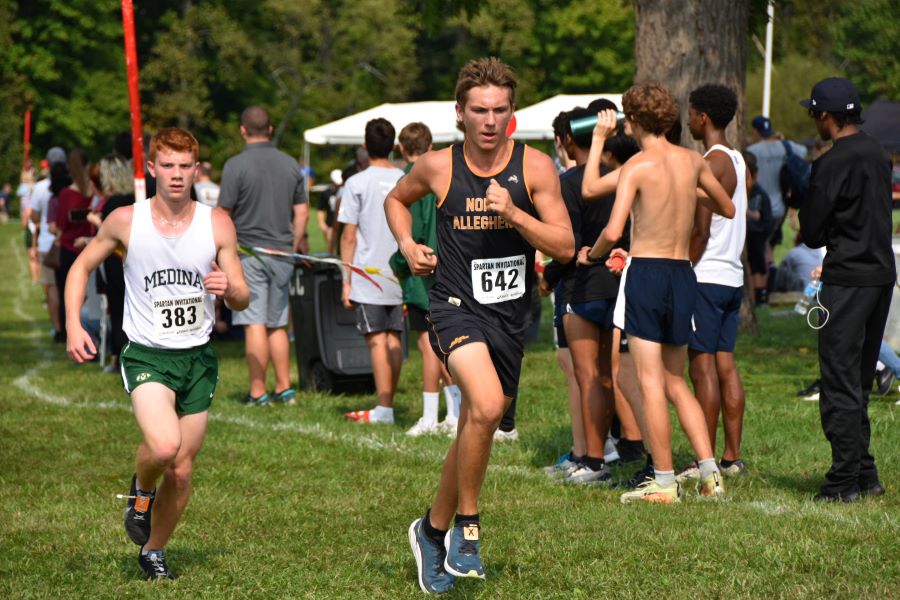 NA Boys Sweep, Girls Split In Section Meet At Pine-Richland
The North Allegheny cross country team traveled to Pine-Richland for a section meet against the Rams and Oakland Catholic/Central Catholic.
The NA Boys were dominant in their victories, earning a perfect 15-50 win over the host Rams and a 17-44 triumph against the Central Catholic Vikings. Junior Michael Gauntner led the Tigers with an overall first place finish. Along with Gauntner, the NA top seven runners were sophomore Jack Bertram (2nd), senior Nicholas Betler (3rd), junior Connor Williams (4th), freshman Andrew Peigh (7th), sophomore Jackson Beemer (8th) and sophomore Michael DeAngelo (9th).
The Lady Tigers lost to the Rams, 25-30, but defeated Oakland Catholic, 21-40. The meet was close between the Rams and Tigers but Pine-Richland prevailed on its home course. Sophomore Camille Swirsding had an impressive day, leading the Tigers and taking second overall. Along with Swirsding, the top seven runners were composed of junior Eva Kynaston (3rd), sophomore Kendall Lucas (8th), sophomore Elizabeth Pizon (11th), junior Maia Getz (12th), freshman Mackenzie Winning (14th) and freshman Anna Getz (15th).
For a complete look at results, click here.
The North Allegheny Boys improve to 3-0 in the section, while the NA Girls sit at 2-1 in the section.