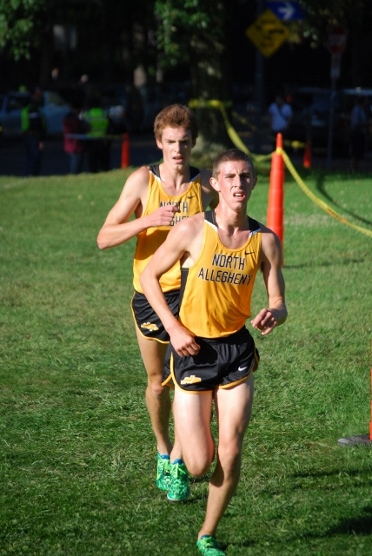 NA Boys Take 1st Place Again At Red, White and Blue Classic
It was strong showing for the North Allegheny Cross Country Team on Saturday at Schenley Park for the annual Red, White and Blue Classic.  The NA Boys took first place for the seventh time in the 10-year history of the meet with a team score of 30. The Lady Tigers claimed a third place trophy with a team score of 192.
While Fox Chapel's Colin Martin earned individual gold in the Boys' competition, North Allegheny was paced by Matt McGoey who finished with a time of 14:45 for fourth place. In all, the Tigers placed six in the meet's top 11, including Cordon Louco, Seamus Love, Scott Seel, Hunter Wharrey and Nicholas McClure. For the Lady Tigers, Madeleine Davison led the way with a time of 15:55 for a bronze medal.
North Allegheny will have the week off before competing at the Boardman Spartan Invitational on Saturday, September 14.
| MEET SUMMARY - BOYS | | |
| --- | --- | --- |
| PLACE | TEAM | SCORE |
| 1 | NORTH ALLEGHENY | 30 |
| 2 | Mt. Lebanon | 155 |
| 3 | Fox Chapel | 193 |
| 4 | South Fayette | 284 |
| 5 | Quaker Valley | 304 |
| MEET SUMMARY - GIRLS | | |
| --- | --- | --- |
| PLACE | TEAM | SCORE |
| 1 | Mt. Lebanon | 92 |
| 2 | Morgantown | 119 |
| 3 | NORTH ALLEGHENY | 192 |
| 4 | Villa Maria | 241* |
| 5 | Kiski Area | 241* |
| INDIVIDUAL RESULTS | | |
| --- | --- | --- |
| NA BOYS | | |
| 4 | Matt McGoey | 15:45 |
| 5 | Cordon Louco | 15:49 |
| 6 | Seamus Love | 15:57 |
| 7 | Scott Seel | 15:58 |
| 8 | Hunter Wharrey | 16:05 |
| 11 | Nicholas McClure | 16:16 |
| 16 | Peter Savchik | 16:27 |
| | | |
| NA GIRLS | | |
| 3 | Madeleine Davison | 17:55 |
| 25 | Caroline Bojarski | 19:30 |
| 52 | Erin Keelan | 20:06 |
| 53 | Katie Guarnaccia | 20:08 |
| 69 | Madissen Steiner | 20:30 |
| 93 | Caitlin Carmody | 20:55 |