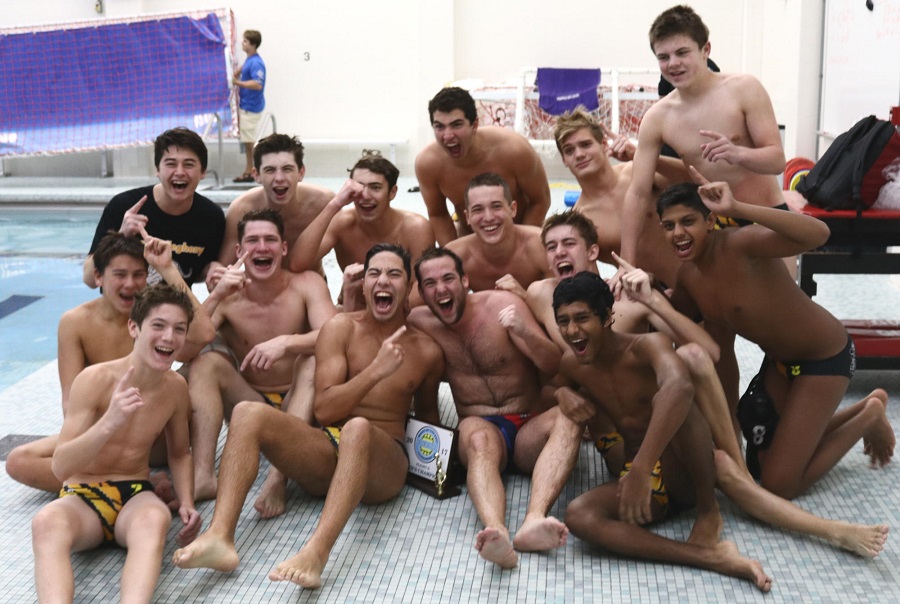 NA Boys' Water Polo Takes 1st Place At Beast of the East
The North Allegheny boys' water polo team took home a tournament championship from the Beast of the Tournament in Reading, PA last weekend. The Lady Tigers also excelled and earned a second-place finish in flight two.
The NA boys' squad opened the tournament with an 11-7 victory over Souderton and was led by Drago Marjanovic who netted seven goals. Following a narrow 6-5 loss to Malvern Prep, the Tigers edged Germantown by a 12-11 decision. Marjanovic tallied eight goals, while Tan Kocyildirim collected two goals and Luke Pieton and Ben Phillips scored one goal each against Germantown.
Advancing to face McDowell, the Tigers topped the Trojans, 10-8, and were again paced by Marjonovic and Kocyildirim who scored five and three goals, respectively. In the title tilt at the Beast of the East, NA defeated Haverford for a thrilling 15-14 win in overtime. Marjonovic scored an astounding 11 goals and Kocyildirim chipped in with three. Goalie Jacob Hollo, who was outstanding throughout the tournament, tallied 15 saves and four assists in the championship contest.
The trek through the Beast of the East tournament for the Lady Tigers began with a 7-5 defeat to Souderton despite a three-goal effort from Sarah Koehler. NA bounced back in its next contest and delivered a convincing 9-1 defeat to Wissahickon. Koehler scored four goals, followed by Ryley McClellan's three goals and five steals on defense. Jordan Ennis scored once and claimed four steals.
The Lady Tigers had a balanced attack in their next contest, a 7-5 triumph over Hazleton. Koehler posted two goals for NA, while Ennis, McClellan, Grace Cibula, Emma Halle and Shannon Kress all tallied a marker. North Allegheny next faced McDowell and used a great defensive effort to limit the Trojans in a 4-3 victory. Goalie Kate Sekinger corralled 11 saves and one steal to lead the way. In the flight two finals, NA dropped a narrow 9-8 decision to Pennridge in overtime. Koehler notched four goals and Sophia Melanson tallied two more.
The NA boys' team improves to 10-2-1 on the season. The Lady Tigers sit at 8-10 for the year. NA water polo returns to action on October 14 at the Erie Challenge.