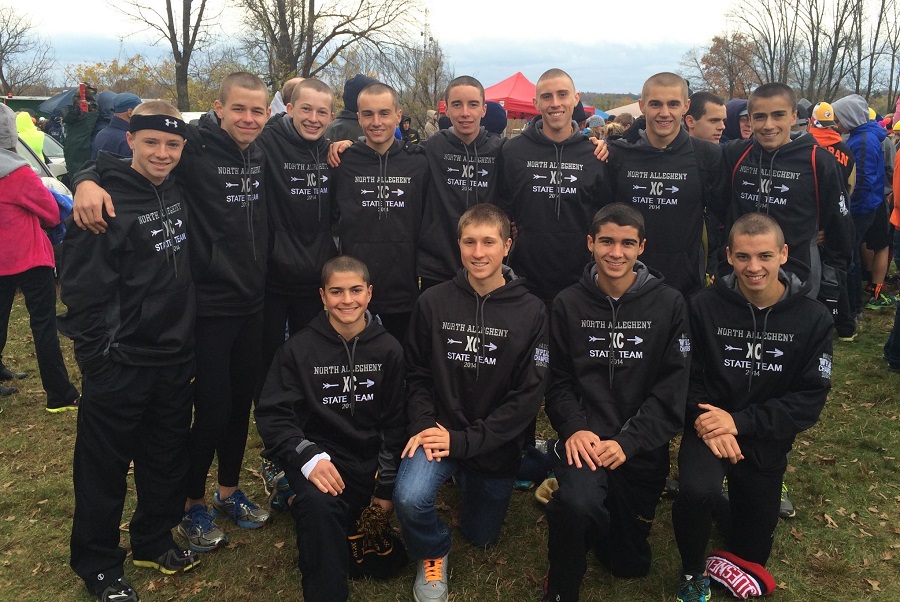 NA Boys Win PIAA Crown, Lady Tigers Take 4th At States
Completing a magical run this fall, the North Allegheny Boys Cross Country Team won the PIAA Team Championship on Saturday afternoon, dominating the field with a team score of 72. Second place Conestoga finished 47 points behind the Tigers on a cool and cloudy day in Hershey.
Pacing the NA Boys was senior Matt McGoey with a time of 15:47, good for a bronze medal in individual competition. Fellow senior Hunter Wharrey notched a top-five finish with a time of 15:52.
Not to be outdone, the Lady Tigers Cross Country Team also made a strong showing, earning fourth place with a team score of 149. The NA Girls were the top finisher amongst WPIAL teams at the PIAA championships. Junior Madeleine Davison was once again outstanding, taking home a silver medal with a time of 17:57. All North Allegheny times and results are below.
Congratulations to the North Allegheny Boys and Girls Cross Country Teams for a terrific 2014 season. Additionally, congratulations to head coach John Neff and the entire NA coaching staff.
| MEET SUMMARY - BOYS | | |
| --- | --- | --- |
| PLACE | TEAM | SCORE |
| 1 | NORTH ALLEGHENY | 72 |
| 2 | Conestoga | 119 |
| 3 | Cardinal O'Hara | 134 |
| 4 | Downingtown West | 152 |
| 5 | Easton Area | 201 |
| MEET SUMMARY - GIRLS | | |
| --- | --- | --- |
| PLACE | TEAM | SCORE |
| 1 | Pennsbury | 68 |
| 2 | Unionville | 73 |
| 3 | Cardinal O'Hara | 104 |
| 4 | NORTH ALLEGHENY | 149 |
| 5 | Mt. Lebanon | 175 |
| INDIVIDUAL RESULTS | | |
| --- | --- | --- |
| NA BOYS | | |
| 3 | Matt McGoey | 15:47 |
| 5 | Hunter Wharrey | 15:52 |
| 15 | Scott Seel | 16:24 |
| 21 | Jacob Stupak | 16:45 |
| 28 | Zach Deible | 16:53 |
| 39 | Marc Migliozzi | 17:06 |
| 58 | T.J. Robinson | 17:16 |
| | | |
| NA GIRLS | | |
| 2 | Madeleine Davison | 17:57 |
| 27 | Madissen Steiner | 19:40 |
| 28 | Clara Savchik | 19:41 |
| 41 | Kara Daggett | 20:04 |
| 51 | Erin Keelan | 20:16 |
| 83 | Caroline Silay | 21:04 |
| 103 | Tess Wright | 21:30 |