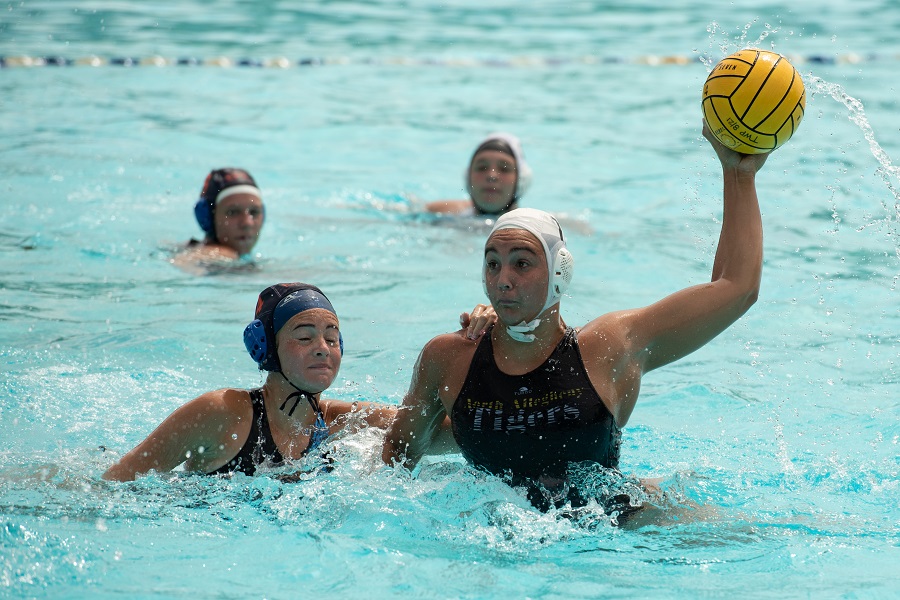 NA Concludes Regular Season At Erie Challenge
The North Allegheny water polo team participated in its final regular season tune-up ahead of the Western Conference Championships at the Erie Challenge on Saturday. The NA Boys won two of their three games and the Lady Tigers went 1-1 at the tournament.
The NA Boys opened the tournament with a tough contest against LaSalle College High School. The Tigers led 6-3 after one quarter but ultimately couldn't navigate past the Explorers, dropping an 11-8 decision. Junior Ben Gavran paced the offense and defense with a team-leading three goals and three steals. Junior Justin Morrison netted a pair of goals, while Keller Sens, Sean McClellan and Asher Jones all tallied markers. In net, junior goalie Eliot Maravich made seven saves.
The Tigers bounced back big in the following contest by punishing Pennridge, 15-4. Eleven different players scored for NA, led once again by Gavran with a hat trick. McClellan and Jones posted two goals each, while Sens, Morrison, Jonathan Mowry, Ethan Berty, Camden Wright, Andy Georgiev, Nico Jacobs-Alarcon and Colton McCartney all scored one goal apiece. Maravich made seven saves to earn the win.
The NA Boys rounded out the tournament with a thrilling 8-7 victory against Wilson. Sens led the way on offense with three goals, followed by Berty with two markers. McClellan, Jones and Gavran each scored goals. McClellan added three assists and Gavran posted a team-best five steals. In between the pipes, Maravich made seven saves for NA.
The Lady Tigers earned a 12-9 triumph over Pennridge in their first effort of the tournament. NA built an 8-3 lead by intermission and staved off a Pennridge rally in the second half. Junior Rebecca Melanson spearheaded the victory with five goals, three assists and three steals. Senior captains Anna Kegel and Emma Donnelly each posted two goals and three assists. Sophomore Carissa Jones also netted two goals and senior Jamie Palone added a marker. Kegel and senior Natalie Marquiss led the defense with four steals each. Sophomore goalie Izzie Trunzo made 11 saves to earn the victory.
In the nightcap, North Allegheny fell behind Wilson 5-1 in the early stages of the second quarter and put together a furious rally in the second half. The Tigers cut the deficit to two but the Bulldogs prevailed, 14-11. Melanson sparked the comeback bid with seven goals and five steals. Kegel tallied four goals and Marquiss helped facilitate the offense with four assists. Trunzo stopped four shots in net.
On the season, the NA Boys improve to 17-3 on the season, while the Lady Tigers also sit at 17-3 on the campaign. Both teams have already locked up the No. 1 seed entering the Western Conference Championships next weekend.