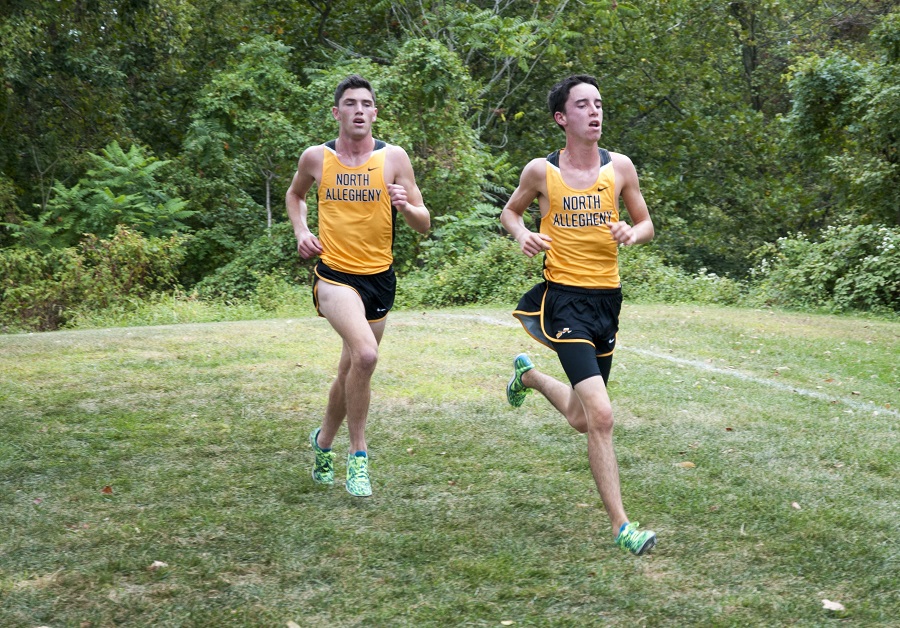 NA Cross Country Impresses At PIAA Foundation Invitational
Winning by a 105 point spread, the North Allegheny Boys emphatically took first place at the PIAA Foundation Invitational on Saturday in Hershey. Junior Matt McGoey led the Tigers and grabbed third place overall with a time of 16:22. In all, five Tigers finished in the top 10, including juniors Seamus Love, Hunter Wharrey and Scott Seel, and senior Cordon Louco. North Allegheny's team score of 31 was leaps and bounds ahead of second place Lower Dauphin who had a team score of 136. 
The Lady Tigers Cross Country squad garnered a fourth place finish with a team score of 172 as Pennsbury held the top spot with a score of 78 at the invitational. WPIAL member Mt. Lebanon finished in second place with a score of 90.  Pacing the Lady Tigers was sophomore Madeleine Davison with a time of 19:00 and a fourth place individual finish.
The North Allegheny Cross Country Team will next face North Hills and Shaler in a home section tri-meet on Tuesday afternoon at 3:30 pm.
| MEET SUMMARY - BOYS | | |
| --- | --- | --- |
| PLACE | TEAM | SCORE |
| 1 | NORTH ALLEGHENY | 31 |
| 2 | Lower Dauphin | 136 |
| 3 | State College | 151 |
| 4 | Freedom | 169 |
| 5 | Pennsbury | 190 |
| MEET SUMMARY - GIRLS | | |
| --- | --- | --- |
| PLACE | TEAM | SCORE |
| 1 | Pennsbury | 78 |
| 2 | Mt. Lebanon | 90 |
| 3 | Strath Haven | 134 |
| 4 | NORTH ALLEGHENY | 172 |
| 5 | Manheim Township | 196 |
| INDIVIDUAL RESULTS | | |
| --- | --- | --- |
| NA BOYS | | |
| 3 | Matt McGoey | 16:22 |
| 5 | Seamus Love | 16:33 |
| 6 | Hunter Wharrey | 16:34 |
| 8 | Scott Seel | 16:37 |
| 9 | Cordon Louco | 16:37 |
| 33 | Peter Savchik | 17:28 |
| 35 | Nicholas McClure | 17:31 |
| | | |
| NA GIRLS | | |
| 4 | Madeleine Davison | 19:00 |
| 28 | Kaite Guarnaccia | 20:53 |
| 40 | Erin Keelan | 21:14 |
| 44 | Caroline Bojarski | 21:22 |
| 56 | Caitlyn Carmody | 21:45 |
| 58 | Madissen Steiner | 21:47 |
| 71 | Veronia Bella | 22:02 |