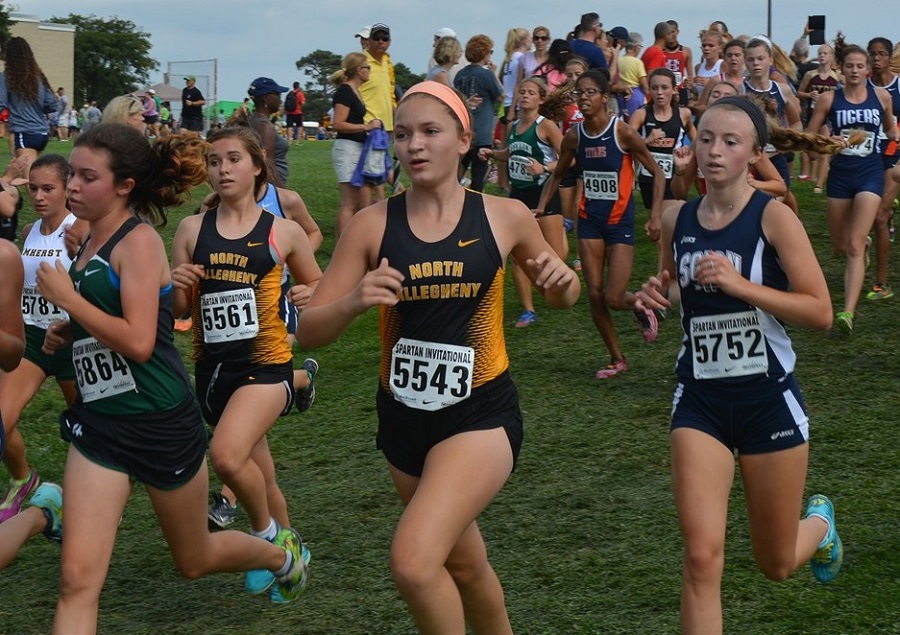 NA Cross Country Sweeps North Hills, Shaler
North Allegheny Cross Country had its last home meet of the regular season on Tuesday afternoon. Both the NA boys and girls teams came away victorious against section opponents, North Hills and Shaler Area.
In the girls race, Clara Savchik (junior) returned to take first place overall with a time of 19.16.  Hannah Lindgren (freshman) took third overall and Tess Wright (junior) finished right behind her.  Coming in shortly after were linchpins, Ally Meehan (sophomore) and Ally Christy (junior). Rounding out the Lady Tiger scorers were Kara Daggett (senior) and Janet Wang (junior). NA beat NH, 20-39, and swept Shaler with a perfect score of 15-50.
In the boys race, North Hills took the top individual spot and a Shaler Titan grabbed second place.  Then it was a sea of black and gold that rolled through the finish line.  Having his second great race in a row was Max Miccuci (junior) who led all Tigers with a time of 17:23.  Fellow junior, Ben Graziano, came in five seconds later and was he followed closely by senior, Caleb Schaelchlin. Rounding out the top seven for the Tigers were Rene Abdalah (freshman), Michael Kutzmas (senior), Ethan Wright (junior), and Ben Hipwell (junior).  NA beat NH, 16-43, and SA, 16-43.
The top 17 boys and 17 girls from NAXC will be competing in Hershey, PA this Saturday for the PIAA Foundation Meet.