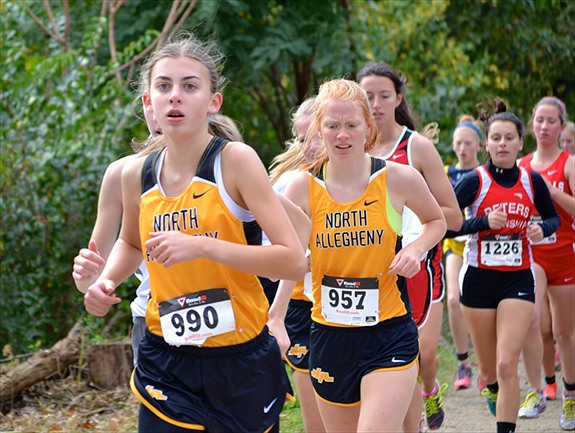 NA Cross Country Teams Claim Section Crowns
The North Allegheny Cross Country Team hosted the Seneca Valley Raiders and the Butler Golden Tornado on Tuesday to finish out Section 3-AAA competition.   The NA Boys' and Girls' were able to defend their undefeated dual meet records and claim the section title.
Leading the Lady Tigers to the section championship were Madeleine Davison (1st overall), Clara Savchik (2nd overall), Erin Keelan (7th overall), Kara Daggett (9th overall), Madissen Steiner (11th overall), Caroline Silay (12th overall), and Jennifer Corral (15th overall).  The girls beat a tough Seneca Valley team 25-31 and Butler by a score of 20-40.
Paving the way for the male section leaders were Hunter Wharrey (1st overall), Matt McGoey (2nd overall), Scott Seel (3rd overall), Jake Stupak (5th overall), Marc Migliozzi (6th overall), Zach Deible (7th overall), and T. J. Robinson (11th overall).  The boys beat Seneca Valley by a score of 17-45 and posted a perfect score of 15-50 against Butler.
Congratulations to the 2014 Boys and Girls WPIAL Section 3-AAA Champs.  Both teams will head to California, PA to compete in the Tri-State Invitational next Thursday, October 16.