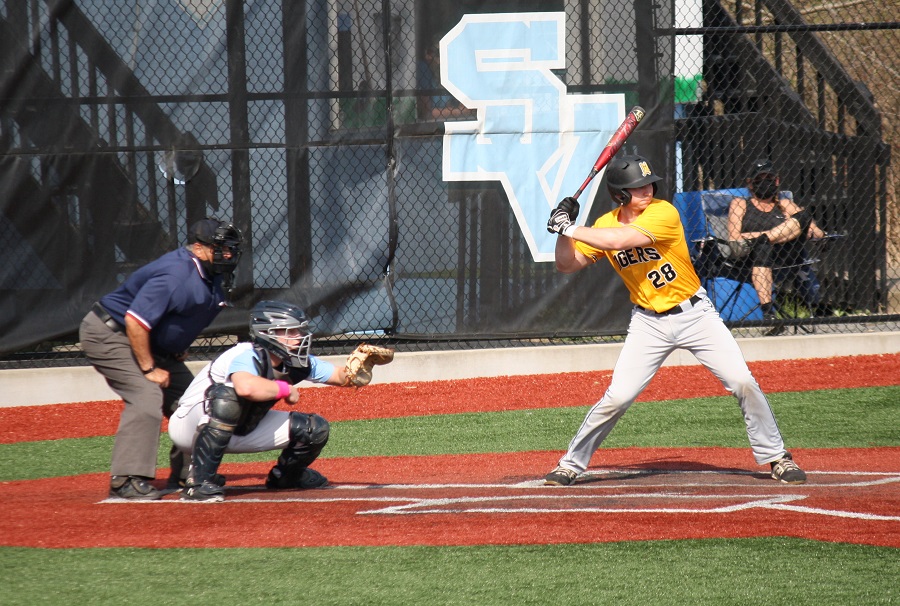 NA Edged At Seneca Valley, 2-1
Quinn Burke's walk-off double in the bottom of the seventh lifted host Seneca Valley to a 2-1 win over North Allegheny on Tuesday afternoon in the Section 1-6A opener.
On a beautiful spring afternoon in Harmony, the Tigers and Raiders faced off in a pitchers' duel to begin the section slate. North Allegheny starter Brady Palmer blanked Seneca Valley through three innings and it appeared the right-hander might pitch his way out of a sticky situation in the bottom of the fourth inning as well. With the bases loaded and one out, Palmer induced a ground ball off the bat of Andrew Tkatch that was fielded by NA first baseman Danny Gallon, who threw home for the force out of Seth Baic and the inning's second out. However, the next batter, Dustin Horn, managed a single to centerfield to score Alex Mortier and the Raiders grabbed a 1-0 lead.
Seneca Valley starter Ethan Edkins silenced the Tigers through six innings but NA found the equalizer in the top of the seventh. With one out in the inning, Erik Sundgren drew a walk off of Edkins, who was quickly replaced by Mortier in relief. Junior Aaron Posey welcomed Mortier unkind with an RBI double to centerfield to score Sundgren and the game was deadlocked at 1-1.
The tie was short-lived, however, as Burke delivered a walk-off double in the bottom of the seventh to plate Clayton Blucher with the game-winning run and propelled Seneca Valley to a 2-1 win.
North Allegheny's Joe Lang took the loss but pitched well in relief, striking out three batters in 2.2 innings. Despite blowing the save in the seventh, Mortier picked up a vulture win for Seneca Valley in 0.2 innings on the bump with one strikeout.
Following Tuesday's result, North Allegheny drops its first game of the season and sits at 2-1 overall and 0-1 in Section 1-6A. Seneca Valley improves to 3-1 overall and 1-0 in the section. The Tigers and Raiders will face off again on Wednesday night at North Allegheny at 6:00 p.m. The game will be broadcast live via the internet on the North Allegheny Sports Network.
Box Score - Baseball vs. Seneca Valley - 04/6/2021
| Score by Innings | 1 | 2 | 3 | 4 | 5 | 6 | 7 | R | H | E |
| --- | --- | --- | --- | --- | --- | --- | --- | --- | --- | --- |
| North Allegheny | 0 | 0 | 0 | 0 | 0 | 0 | 1 | 1 | 4 | 2 |
| Seneca Valley | 0 | 0 | 0 | 1 | 0 | 0 | 1 | 2 | 10 | 1 |
WP - Alex Mortier LP - Joe Lang (0-1)