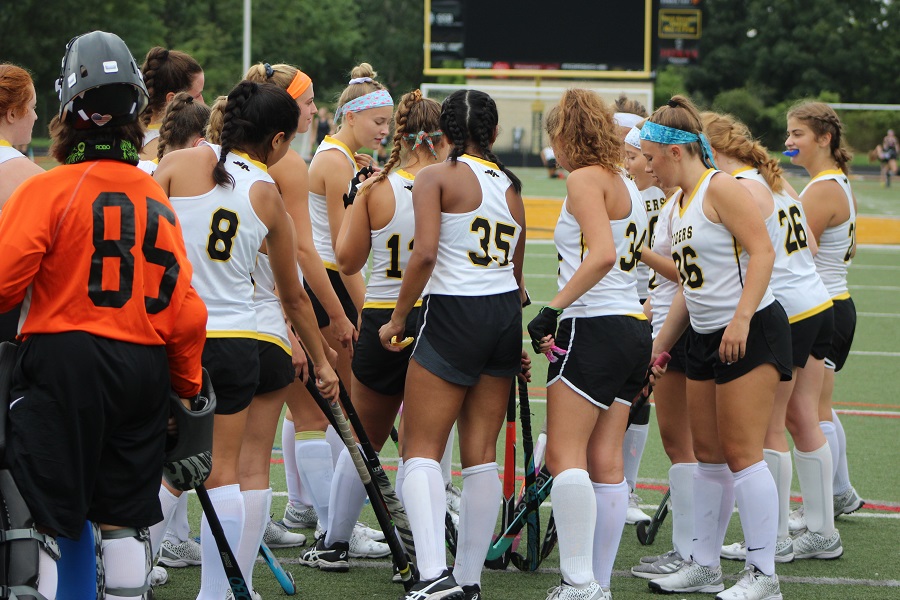 NA Edged By Peters Township To Start Season, 3-2
In a battle between two perennial playoff contenders in Class AAA, the North Allegheny field hockey team dropped a narrow 3-2 decision to the Peters Township Indians on Monday night at Newman Stadium.
Coming off a strong passing performance in their scrimmage against Upper St. Clair, the Tigers passing game was once again on point to help set up their first goal of the season. North Allegheny capitalized on an early penalty corner to take a 1-0 lead with 1:41 remaining in the first quarter. Sophomore Sofia Mianzo set up the goal with a hard shot from the top of the circle that trickled off the leg of a PT defender in front of the net. Sophomore Lauren Kampi drove home a shot from point-blank range to give NA the early lead.
Despite the NA goal, Peters Township controlled the pace for the remainder of the half and knotted the score at 1-1 with 3:05 remaining in the second quarter on a goal by freshman forward Sofia Forlini.
The Indians struck again just three minutes into the third quarter when Ava Pugliano steered a shot into the NA net to give PT a 2-1 advantage.
In the fourth period, Peters Township increased its lead to 3-1 with 5:22 left in regulation thanks to Forlini's second goal of the night, a redirect of a Carly King line drive into the circle.
Undaunted, North Allegheny chipped away at the deficit and scored on another penalty corner with 1:41 to play. Off the corner, senior Maria Duchi put a shot on net that was saved by PT goalie Sarah Rubican, but Kampi jumped on the rebound for her second goal to trim the score to 3-2, Indians. For her efforts, Kampi was named the Wright Automotive Player of the Game by the North Allegheny Sports Network.
Riding momentum, the Tigers continued to pressure in the waning seconds and forced back-to-back penalty corners as time expired. With zeroes on the clock, Rubican and the Peters Township defense fended off NA's last-ditch effort to hang on for a 3-2 victory.
Following the season opening loss, North Allegheny looks to rebound on Tuesday night with a visit to Hempfield in another section contest.