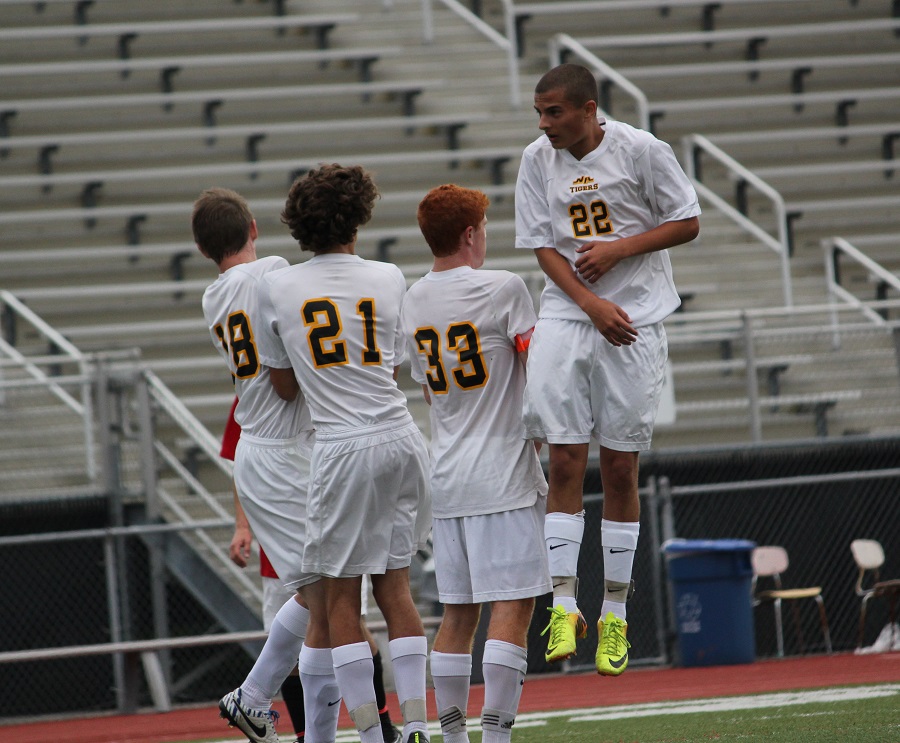 NA Head & Shoulders Above Shaler For Section Win
by Boys' Soccer Contributor
The Tigers traveled to section rival Shaler on Tuesday and played a lopsided possession game all night, connecting on passes and looking for teammates throughout.  Unfortunately for the Tigers though, only 3 of their 14 shots at the Titan goal were on net in the first half.  At the 25:40 mark, Josh Luchini found Bobby Upton on a cross from the right side and Upton connected from 5 yards out to put North Allegheny up, 1-0.  The Tigers continued their pressure, but had a hard time finding the frame and the half ended with the visitors up by one.
Shaler started the second half with some momentum, gaining a corner at 39:25 and stringing a few shots toward the NA net.  The Tigers continued their strong possession play and started to get their shots on net as Steve Binnig broke through for a breakaway, but his shot was saved by the Titan goalie. At  19:04, Luchini was pulled down in the box and awarded a penalty kick which Binnig buried for his first of the year and what seemed like a safe 2-0 lead.  Ben Cinker, getting his first varsity action, entered the game at 16:09, and almost immediately after a Luchini, pass added another but a great save by the Shaler goalie was made.  To Shaler's credit, the Titans started to press up and at 14:49 off a Titan corner, Mike Tremel scored from 20 yards out to tighten the game at 2-1.  From there North Allegheny continued its pressure and sent shots at the Shaler net, but again many missed either wide or high with the game ending 2-1 in favor of the Tigers.
North Allegheny, with the win, stands at 4-3-1 overall and 3-1-1 in the section and in second place. Presently in third place, crosstown rival North Hills visits the Tigers Den at 6:30 pm this coming Saturday, September 20and the boys are expecting a good crowd to root them on.