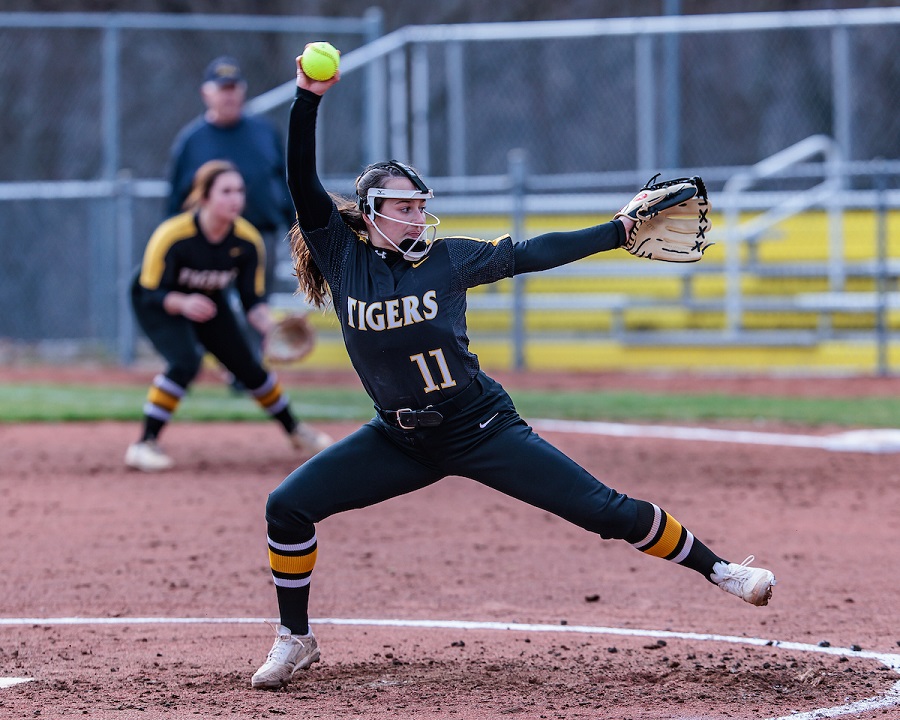 NA Falls In Extra Innings To Pine-Richland
North Allegheny lost a hard-fought game to the Pine-Richland Rams in eight innings of play.
The Rams scored first in the bottom of the first inning, but the Tigers answered back in the second when senior Reagan Deitrick doubled.  She then stole third and scored on an errant throw into left field.  Detrick scored again to give NA a 2-1 lead in the fourth inning after hitting a solo homerun over the center field fence.
The Tigers continued to apply offensive pressure throughout the game, but were unable to score.  In the top of the fifth inning, junior Meghan McDonough doubled with two outs but did not advance.  In the bottom of the fifth, the Rams tied the game at 2-2 with a lead-off single, a fielder's choice that advanced the runner to second, and a double to the left field fence.  In the top of the sixth, Deitrick drew a walk and stole second, but to no avail.
With the score tied at the end of the seventh inning, the section opponents advanced into extra innings.  In the eighth, freshman McKenna Rowlands led off with a single, advancing to second with Deitrick's third hit of the day.  However, the Tigers were again unable to score.  At the bottom of the eighth, the Rams managed to score with a long fly ball to left field, scoring a runner from third.
Freshman Sammy Plotsko and sophomore Anne Melle shared time on the mound today, handling the strong-hitting Rams with poise.  Plotsko pitched the first four innings, holding the Rams to two runs on three hits.  Melle entered the circle in the fifth, pitching two complete innings.  She held the Rams to one run on two hits.  Plotsko reentered in the seventh, pitching the remaining two innings of play.
The Tigers now have an overall record of 9-5; they are 4-4 in section.  They face their next section opponent tomorrow night when they host Hempfield.  The game is scheduled to begin at 6:30 p.m.
Box Score - Softball vs. Pine-Richland - 05/02/2022
| Score by Innings | 1 | 2 | 3 | 4 | 5 | 6 | 7 | 8 | R | H | E |
| --- | --- | --- | --- | --- | --- | --- | --- | --- | --- | --- | --- |
| North Allegheny | 0 | 1 | 0 | 1 | 0 | 0 | 0 | 0 | 2 | 7 | 1 |
| Butler | 1 | 0 | 0 | 0 | 1 | 0 | 0 | 1 | 3 | 8 | 1 |
WP - Gabby Aughton LP - Sammy Plotsko (2-2)