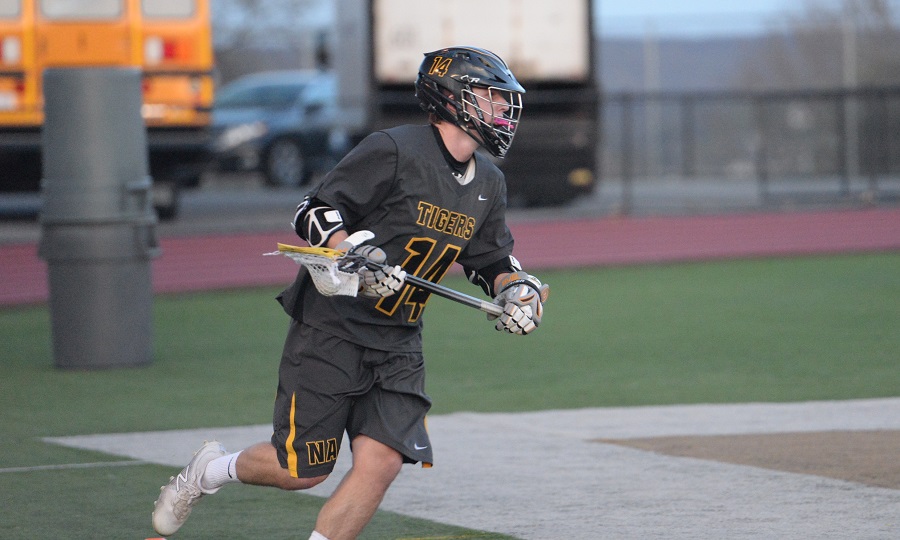 NA Flusters Franklin Regional For Blowout, 15-1
Posting their biggest blowout of the season, the North Allegheny Tigers punished the Franklin Regional Panthers on Thursday night, 15-1. Eleven different players scored goals for the Tigers as the reigning WPIAL champions cruised to the non-section win. Leading the offensive surge was Matt Osten and Wes Powell who each posted a hat trick.
The goals by Maenza and Powell came early in the contest as NA built a 13-0 lead by intermission. Contributing the NA scoring avalanche were Isaiah Davis, Trevor Saundry, Gavin Hagen, Jake Williams, Dillon Bugni, Anthony Mauro, Ethan Maenza, Alec Vissotski and Kyler Byerly. The goals by Mauro and Ethan Maenza were their first varsity markers as seniors.
On defense, the Tigers did not allow a shot in the first half with the Panthers only goal coming in the late stages of the game against the NA reserves. Jack Kairys led the defensive effort with two forced errors and five ground balls. Vissotski and Brian Kress also totaled five ground balls. On draws, Vissotski won 11 of 18 faceoffs.
North Allegheny improves to 10-3 overall with the win, while Franklin Regional falls to 7-6 on the season. The surging Tigers host the Bethel Park Black Hawks on Friday night at 7:30.