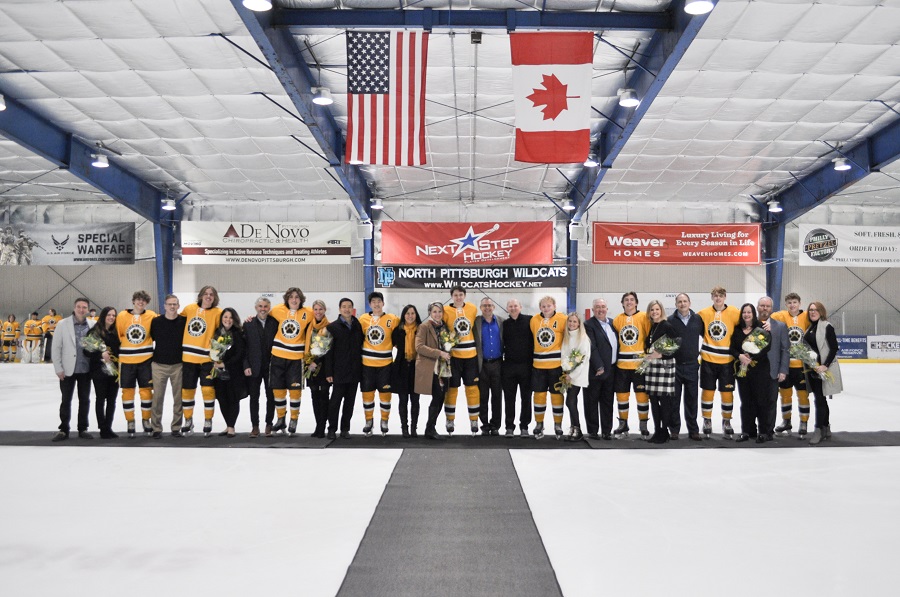 NA gets back on track with 3-2 victory over Pine-Richland on Senior Night
by Jonathan Spina
After falling to the Baldwin Highlanders on Monday 4-3 in a shootout, a loss that snapped a 6-game winning streak. The Tigers found their winning ways again taking down the Pine-Richland Rams 3-2 on Senior Night in front of a packed Baierl Ice Center.
Things were back and forth early on with North Allegheny doing well on the forecheck but Pine-Richland getting more of the shots. The Tigers pressure forced a Pine-Richland icing call seven minutes into the game. With the offensive zone face-off, the Tigers won the draw, got the puck to Trey Gallo who continued his fantastic season scoring his 12th goal of the year, and giving North Allegheny the 1-0 lead. Matt Irvin and Travis Lamark picked up helpers. Seven seconds later Connor Chi won the face-off, got the puck to Irvin, who blasted the puck past the Pine-Richland goalie and just like that, the Tigers had a 2-0 lead. Things calmed down from there and after one period of play North Allegheny led 2-0.
Things got very chippy in the second period, as we saw a total of 34 penalty minutes. None more important than when Pine-Richland had a 5-on-3 with nine minutes remaining in the period, Alex Erlain was able to put a rebound home and the lead was cut in half at 2-1. The choppiness continued without any real flow in the middle frame and after two periods the Tigers lead 2-1.
The Rams came out of the intermission on fire and would put one home two minutes into the period when Carson Kalpakis found the back of the net and we were tied at 2-2. Pine-Richland had the momentum and were looking to take the lead but Tiger goalie Rylan Murphy stood tall and kept the game tied. North Allegheny started to get on the forecheck again and it came up big when Lorenzo Colaizzi stole the puck in the corner, just threw it out in front, the puck hit off of the goalies stick and trickled into the back of the net and with 2:20 remaining in the game, the Tigers would hold on the final 2:20 for a 3-2 gutsy victory over the rival Rams.
Matt Irvin was named the Wright Automotive Player of the Game with a multi-point night getting a goal and an assist. Murphy made 25 saves in net.
North Allegheny improves to 12-1-1 with 25 points. The Tigers sit in first place. Pine-Richland falls to 9-4-0 with 18 points. The Rams are currently in third place. Up next for North Allegheny is a trip to Canon-McMillan next Thursday to take on the Big Macs at 9:10 p.m.