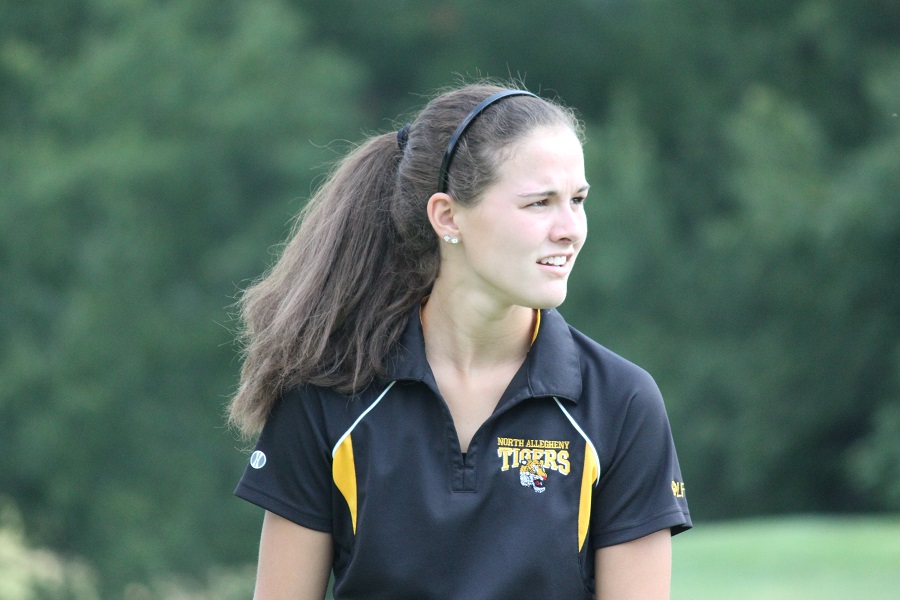 NA Girls' Golf Downs Shaler
Shaler's Natalie Abt grabbed the individual spotlight at Pheasant Ridge Golf Club, but collectively North Allegheny was too much to handle as the Lady Tigers topped the Titans, 171-203, for a Section 2-AAA victory. With a two over par, Abt, a sophomore, knocked down several long putts to finish with a game-best 38. However, North Allegheny's consistency was Shaler's undoing. Seniors Molly Durham and Kelsey Phillips led the Tigers with scores of 40 and 41, respectively. Sophomores Megan Leto and Sophia Lee posted a 44 and 46 to round out the scorecard.
With the win, North Allegheny improves to 4-2 overall and 2-0 in section play. The Lady Tigers host a tri-match today at Shannopin Country Club with Butler and Upper St. Clair. Tee-time is slated for 3:30 pm.  
Match Summary

NORTH ALLEGHENY - 171
SHALER - 203
NORTH ALLEGHENY
SCORE
SHALER
SCORE
Kelsey Phillips
41
Natalie Abt
38
Megan Leto
44
Bridget Stack
51
Molly Durham
40
Meghan Little
50
Marlee Tyler
47*
Samantha LaVerde
64
Sophia Lee
46
Christine Cherdon
74*
TOTAL
171
203