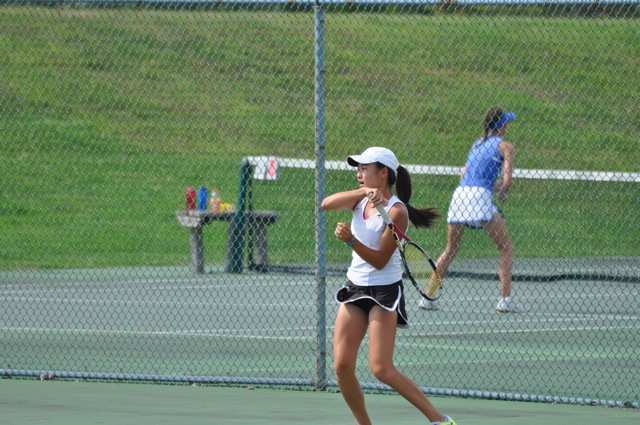 NA Girls' Tennis Downs Knoch, 4-1
The North Allegheny Girls' Tennis Team earned a convincing 4-1 victory over the Knoch Knights on Friday afternoon. The Lady Tigers breezed past the Knights with their only loss by NA coming by default.   Freshman Anna Li and sophomore Tristyn Maalouf picked up straight set wins over their opponents. In doubles play, Jenn Hofmann and Catherine Zhang dispatched Molly Conlon and Alice Gordon, 6-1, 6-1. Catherin Liu and Elana Kolano a grabbed 6-1, 6-0, win over Brooke Etzel and Rachel Sopcisak.
The Lady Tigers advance their record to 11-0 overall and 8-0 in section play.  North Allegheny hosts Hampton on Monday afternoon at 3:30 pm at the NASH courts.    
Match Summary

NORTH ALLEGHENY - 4
KNOCH - 1
SINGLES
#1
Anna Li (NA) def. Patricia Pivarongs (K)
6-1, 6-0
#2
Melissa Stearns (K) def. Tina Li (NA)
DEFAULT
#3
Tristyn Maalouf (NA) def. Catherin Wymer (NA)
6-0, 6-1
DOUBLES
#1
Jenn Hofmann/Catherine Zhang def. Molly Conlon/Alice Gordon (K)
6-1, 6-1
#2
Catherine Liu/Elana Kolano (NA) def. Brooke Etzel/Rachel Sopcisak (K)
6-1, 6-0
EXHIBITION
Catherin Liu/Elana Kolano
8-0