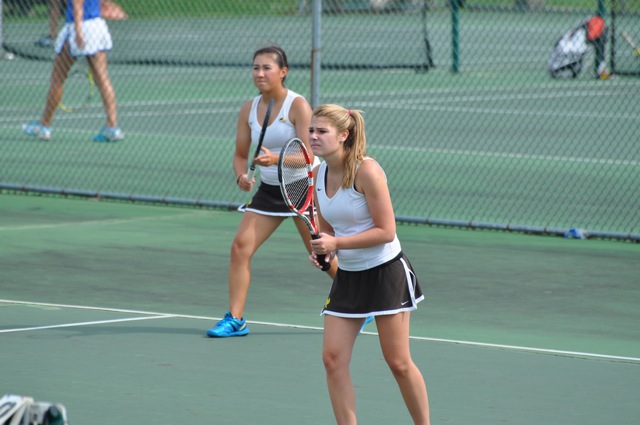 NA Girls' Tennis Edges Pine-Richland, 3-2
The North Allegheny Lady Tigers earned a hard fought section win over the Pine-Richland Rams on Wednesday afternoon, 3-2.  NA's doubles teams were key to the victory as Tristyn Maalouf and Jenn Hoffman topped Sarah Krause and Laura Feger, 6-3, 6-0. To secure the win, Sydney Boyd and Catherine Zhang claimed 6-1, 6-1, sets over Yong Kim and Amy Clarks.
The Lady Tigers remain undefeated at 6-0 on the season and jump to 4-0 in the section. North Allegheny hopes to claim another section win today as the Lady Tigers host the Mars Planets. Start time is slated for 3:30 pm.
Match Summary

NORTH ALLEGHENY - 3
PINE-RICHLAND - 2
SINGLES
#1
Marilyn Bridgham (PR) def. Maddy Adams (NA)
6-1, 6-2
#2
Yvonne Martinez (PR) def. Anna Li (NA)
6-1, 6-1
#3
Tina Li (NA) def. Angela Consiglio (PR)
6-0, 6-0
DOUBLES
#1
Jenn Hofmann/Sydney Boyd (NA) def. Sarah Krause/Laura Feger (PR)
6-3, 6-0
#2
Catherine Liu/Catherin Zhang (NA) def. Yong Kim/Amy Clarks (PR)
6-1, 6-1
EXHIBITION
Catherine Liu/Elana Kolano (NA)
6-0, 6-2