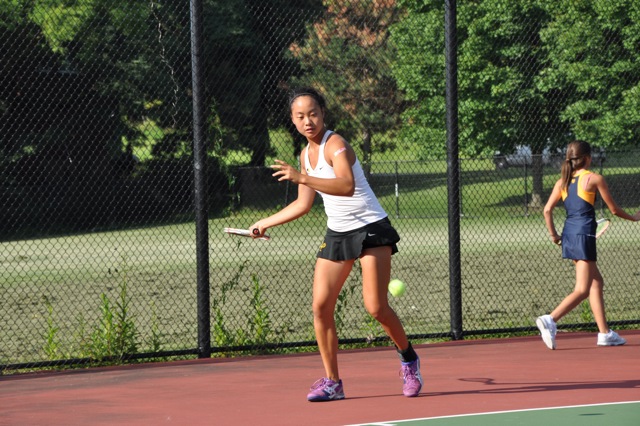 NA Girls' Tennis Overpowers Oakland Catholic In Quarterfinals
It was another dominating postseason effort by North Allegheny as the Lady Tigers overpowered the Oakland Catholic Eagles in the WPIAL quarterfinals on Monday afternoon, 5-0. The match was played at Lakevue Racquet Club because of inclement weather and the Tigers punished Oakland Catholic as if they were on their home court.  At #1 and #3 singles, Anna Li and Eugenia Lee won in sweeps, 6-0, 6-0.  At #2 singles, Tina Li earned a 6-1, 6-0, triumph over Giovanna Elo.
In doubles play, Tristyn Maalouf and Catherine Liu barely broke a sweat with a 6-0, 6-0, decision over Kaitlyn McDonough and Lucy Johnston.  At #2 doubles, Sydney Boyd and Catherine Zhang took down Caroline Ciocco and Alex McCrory, 6-1, 6-2.
The Lady Tigers improve to 18-0 overall with the win and advance to the WPIAL semifinals for a meeting with the Peters Township Indians on Wednesday afternoon. No site or time has been determined at the time this article was written. Earlier in the season, on September 4, North Allegheny faced and defeated Peters Township by a final of 5-0. The reigning WPIAL champs are hoping for a similar result on Wednesday. For a look at the entire Class AAA Girls' Tennis bracket, click here.
Match Summary

NORTH ALLEGHENY - 5
OAKLAND CATHOLIC - 0
SINGLES
#1
Anna Li (NA) def. Marley Shovlin (OC)
6-0, 6-0
#2
Tina Li (NA) def. Giovanna Elo (OC)
6-1, 6-0
#3
Eugenia Lee (NA) def. Abigail Staskewicz (OC)
6-0, 6-0
DOUBLES
#1
Catherine Liu/Tristyn Maalouf (NA) def. Kaitlyn McDonough/Lucy Johnston (OC)
6-0, 6-0
#2
Sydney Boyd/Catherine Zhang (NA) def. Caroline Ciocco/Alex McCrory (OC)
6-1, 6-2