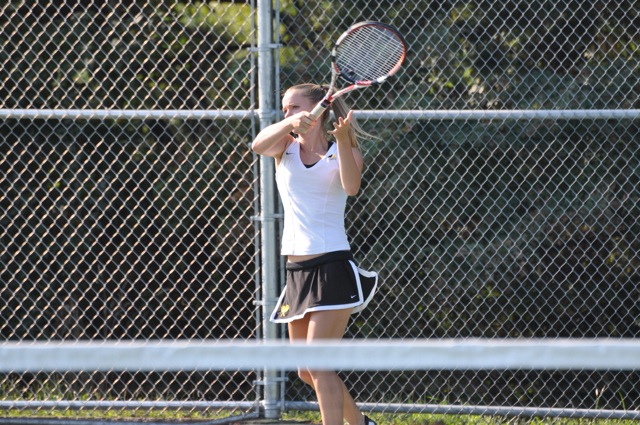 NA Girls' Tennis Sweeps Past Planets, 5-0
In a dominating effort, the Lady Tigers soundly defeated the Mars Planets on Thursday afternoon, 5-0. North Allegheny lost only two sets all day, during a thorough win by Catherine Liu and Elena Kolano over Hope Berneberg and Meg McLaughlin, 6-2, 6-0. All other Tiger competitors won with clean sweeps of 6-0, 6-0. Specific scores are listed below.
North Allegheny adds to the win column for a 7-0 overall mark and 5-0 section record. The Lady Tigers host Seneca Valley this afternoon at 3:30 pm.
Match Summary

NORTH ALLEGHENY - 5
MARS - 0
SINGLES
#1
Maddy Adams (NA) def. Amber Carlin (M)
6-0, 6-0
#2
Anna Li (NA) def. Ericka Raymondo (M)
6-0, 6-0
#3
Sydney Boyd (NA) def. Alyssa Green (M)
6-0, 6-0
DOUBLES
#1
Jenn Hofmann/Catherine Zhang (NA) def. Maddy Brake/Liz Puras (M)
6-0, 6-0
#2
Catherine Liu/Elena Kolano (NA) def. Hope Berneberg/Meg McLaughlin (M)
6-2, 6-0