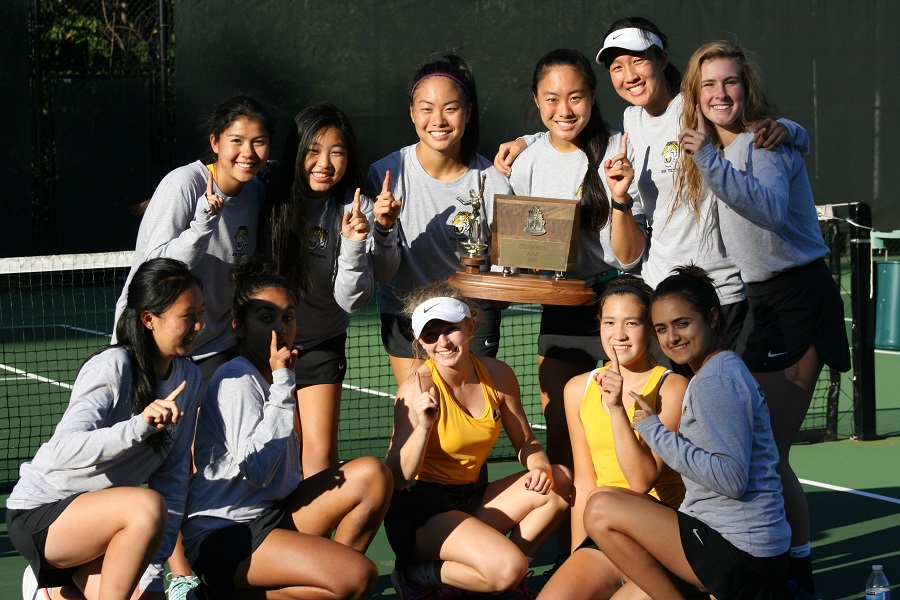 NA Girls' Tennis Wins Fourth Straight WPIAL Crown
In a hard-fought title tilt, the North Allegheny girls' tennis team captured a fourth straight WPIAL championship with a 3-2 win over the Mt. Lebanon Blue Devils on Wednesday. With the match tied 2-2, the deciding point came down to the No. 3 singles duel between NA's Ashley Huang and Mt. Lebanon's Golda Gershanock. The Tigers sophomore claimed a 6-2, 6-4, win and lifted North Allegheny to an exciting championship victory.
Mt. Lebanon swept the doubles matchups with wins by Katherine Ozzie and Lauren Corey at No. 1 doubles, and Casey Gannon and Brooke Warsaw in No. 2 doubles. The Tigers ruled in singles play which proved to be the difference in the match. Along with Huang's victory, Harvard recruit Anna Li defeated Skyler Morgan 6-3, 6-4. Tina Li, a Navy recruit, beat Morgan Happe by a 6-1, 6-0, decision.
With the WPIAL title win, North Allegheny leaps to 20-0 overall and will try to win a fourth straight state crown when the PIAA tournament begins on October 25. In the meantime, the impressive NA singles players will compete at the WPIAL Section Singles tournament on Monday.
Girls Tennis Summary vs. Mt. Lebanon, 10-5-16
Match Summary

NORTH ALLEGHENY - 3
MT. LEBANON - 2
SINGLES
#1
Anna Li (NA) def. Skyler Morgan (ML)
6-3, 6-4
#2
Tina Li (NA) def. Morgan Happe (ML)
6-1, 6-0
#3
Ashley Huang (NA) def. Golda Gershanock (ML)
6-2, 6-4
DOUBLES
#1
Katherine Ozzie/Lauren Corey (ML) def. Rebekah Rest/Jenna Kolano (NA)
6-2, 6-2
#2
Casey Gannon/Brooke Warsaw (ML) def. Riya Yadav/Katherine Ambrose (NA)
6-1, 6-0