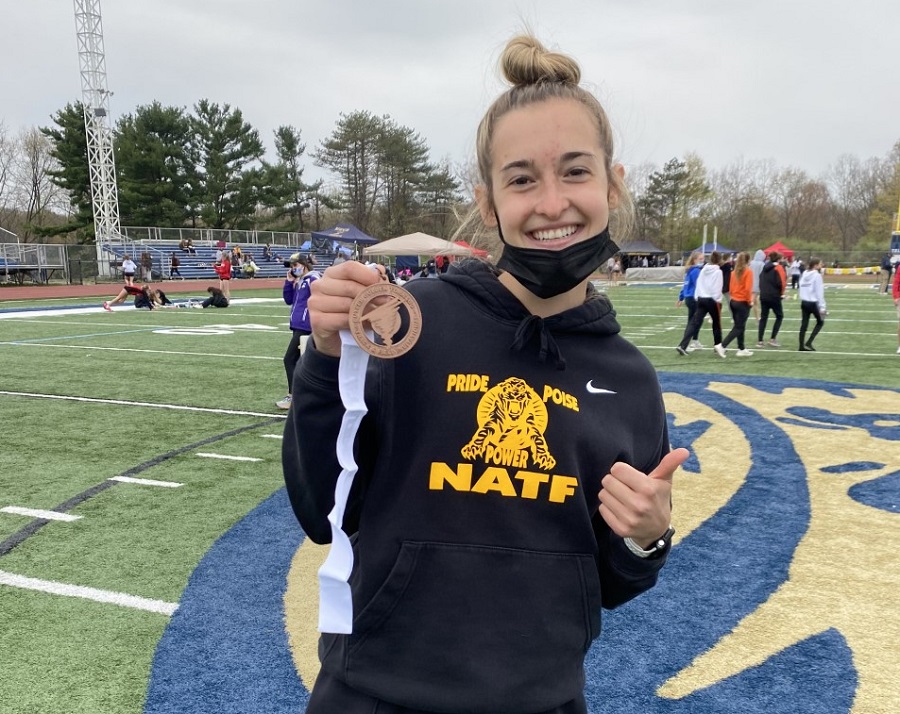 NA Girls Tie for 7th at Butler Invitational
On Friday the NA Boys competed at the Butler Invitational.  Saturday, it was the NA Girls turn to compete, and compete they did.  Very Well.  Over 60 teams competed, and although the Lady Tigers did not have a full-strength squad competing at the 56th Annual Butler Invitational, they tied with Hickory for 7th place overall in the final team standings.
Senior hurdler Aveline Plenter was the first Tiger to stand on the podium and be awarded a medal for placing seventh in the 100m High Hurdles race.  It wasn't long after that when other Tigers achieved award winning performances, like Jenna McConnell finishing in seventh place in Triple Jump.  One of the few Tigers to compete in multiple events at the meet, Evelyn Wiethorn performed well in the High Jump and finished seventh place overall in the Javelin finals.  Teammate Alaina Fantaski (pictured above) also placed in the Javelin with a throw that secured a third-place finish.  One other podium finish for the Tigers in the field events came from thrower Jackie DiGiacomo with a third-place finish in the Discus.  In one of the toughest races in Track and Field, sprinter Lola Akindele scorched around the track and finished in third-place in the 400m Dash.  Freshman distance sensation Eva Kynaston raced to an incredible third-place finish with an inspiring last lap in the 3200m Run.
The Tigers will travel to Fox Chapel on Tuesday to take on the Foxes and the Titans of Shaler in the final sectional showdown of the season.  Meet begins at 3:30pm.