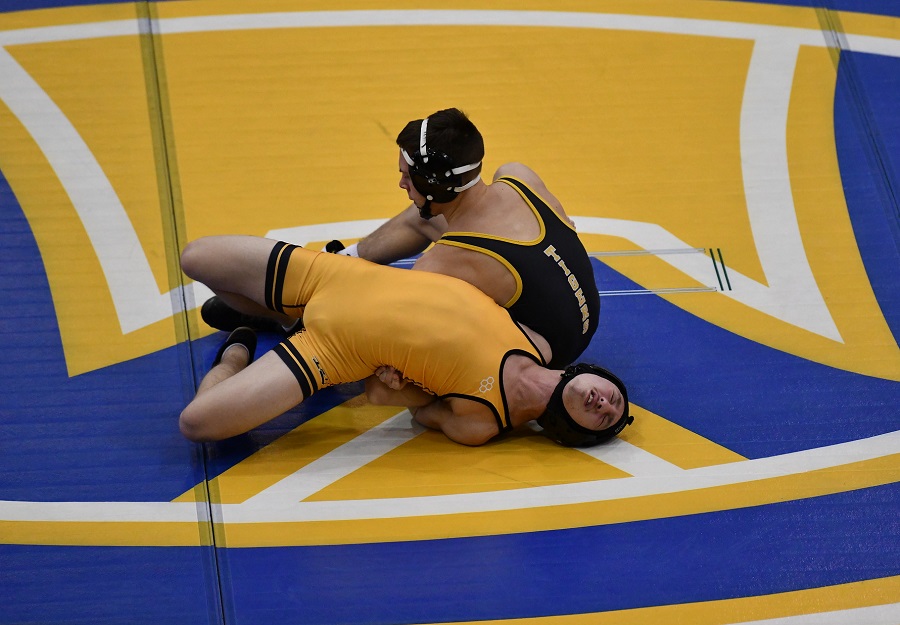 NA Grapplers Conclude Season At WPIAL Class AAA Individual Tournament
Two North Allegheny wrestlers reached the fifth-place bouts in their respective weight classes in the final day of the WPIAL Class AAA wrestling tournament on Saturday at Canon-McMillan High School. Senior Dylan Coy qualified for the fifth-place bout at 126 pounds, while junior Jayson Flener did the same at 138.
Coy, who was the third-seed at 126 pounds, was the only NA grappler to reach the semifinal round in the winner's bracket and gave a valiant effort before falling to second-seeded Ethan Lebin of Hempfield by a narrow 1-0 decision. Ultimately, Coy fell to Canon-McMillan's Andrew Bini in the fifth-place bout by another close call, 7-5.
After suffering a first round loss on Friday night, Flener put together a string of victories that continued into day two of the tournament. On Saturday, Flener started the day with a win by forfeit over Trinity's Robbie Allison. In the third round of the consolations, Flener earned a 3-2 decision over Canon-McMillan's Josiah Gardner to advance. However, Flener dropped his next two bouts, including a 2-0 decision to Belle Vernon's Kole Doppelheuer.
In their treks through the consolation bracket, Will Bentrim (113), Nathan Monteparte (132), Adam Rohan (160) and Aidan Buggey (215) all earned second round consolation victories before eventually bowing out of the tournament in the third round of consolations.  For a complete look at the brackets, click here.
While no members of the NA wrestling team advanced to Hershey, it was another great season for the Tigers wrestling team and program during the 2021-2022 season. Congratulations to all of the NA wrestlers and coaches for a terrific season.
WPIAL Class AAA Wrestling Championships - Day Two
Saturday, March 5 at Canon-McMillan High School
| Weight | Wrestlers | Score |
| --- | --- | --- |
| 106 - 2nd Consolation | Giavone Schipani (North Hills) pinned Casey Walker (NA) | 0:23 |
| | | |
| 113 - 2nd Consolation | Will Bentrim (NA) pinned Leo Joseph (Latrobe) | 0:52 |
| 3rd Consolation | Evan Petrovich (Connellsville) pinned Will Bentrim (NA) | 0:35 |
| | | |
| 126 - Semifinals | Ethan Lebin (Hempfield) dec. Dylan Coy (NA) | 1-0 |
| 4th Consolation | Anthony Ferraro (Pine-Richland) dec. Dylan Coy (NA) | 3-2 |
| 5th Place | Andrew Binni (Canon-McMillan) dec. Dylan Coy (NA) | 7-5 |
| | | |
| 132 - 2nd Consolation | Nathan Monteparte (NA) dec. Brayden White (Highlands) | 9-4 |
| 3rd Consolation | Eli Carr (Hempfield) dec. Nathan Monteparte (NA) | 6-3 |
| | | |
| 138 - 2nd Consolation | Jayson Flener (NA) wbf Robbie Allison (Trinity) | |
| 3rd Consolation | Jayson Flener (NA) dec. Josiah Gardner (Canon-McMillan) | 3-2 |
| 4th Consolation | Lonzy Vielma (Connellsville) dec. Jayson Flener (NA) | 1-0 |
| 5th Place | Kole Doppelheuer (Belle Vernon) dec. Jayson Flener (NA) | 2-0 |
| | | |
| 152 - 2nd Consolation | Mark Gray (Kiski Area) tech fall Kellen Buggey (NA) | 19-1, 3:38 |
| | | |
| 160 - 2nd Consolation | Adam Rohan (NA) dec. Jake Lukez (Pine-Richland) | 4-0 |
| 3rd Consolation | Bodie Morgan (Trinity) dec. Adam Rohan (NA) | 6-0 |
| | | |
| 215 - 2nd Consolation | Aidan Buggey (NA) dec. Corbin Johnston (Armstrong) | 3-0 |
| 3rd Consolation | Joshua Sarasnick (Chartiers Valley) dec. Aidan Buggey (NA) | 3-1 |
| | | |