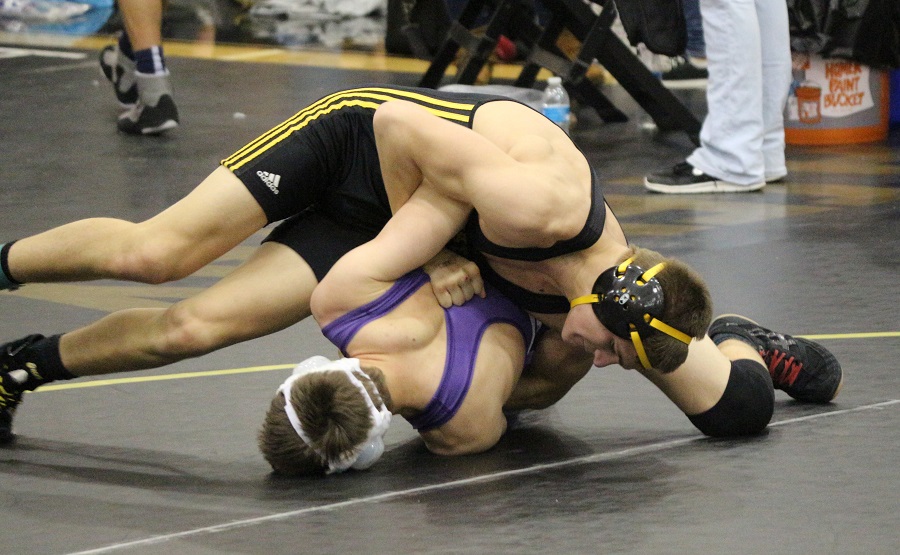 NA Grapplers Secure First Place By Slamming Shaler, 58-9
by Lee Mohn
The Tigers won the battle for first place in Section 3B-AAA on Wednesday night by defeating Shaler, 58-9.  The night started off at 220 pounds and senior Jake Woodley moved up in weight to take on Ron D'Amico.  Woodley was behind 1-0 at the end of two periods but was able to score an escape early in the third and then score a take down with just under a minute left to win, 3-2.  With that victory Jake Woodley was named the Wright Automotive player of the game.
Junior Derek Devine continued the strong start by pinning Julian Schiebel to make the score 9-0, Tigers.  Each team had a forfeit win before Jacob Downing followed with a 9-3 decision to extend the lead to 18-6.  Luke Landefeld was awarded a victory after sustaining an injury. The referee ruled that Garret Reinsfelder slammed Landefeld to the mat.  The Titans did not register another point on the night.  Other Tigers with victories were Zach Stedeford, Will Baierl, Jake Hinkson, Jon Hoover, and Jacob Fritsch closed out the night with a pin.
North Allegheny improves to 4-0 in Section 3B-AAA, while Shaler slips to 3-1. The Tigers will face North Hills on Wednesday, January 18 in their final section match.
Wrestling Match Summary: NA vs. Shaler
| Weight | Wrestlers | Score |
| --- | --- | --- |
| 220 | Jake Woodley (NA) dec. Ron D'Amico (SH) | 3-2 |
| 285 | Derek Devine (NA) pinned Julian Schiebel (SH) | 1:01 |
| 106 | Ryan Sullivan (SH) wbf | |
| 113 | Freddy Junko (NA) wbf | |
| 120 | Jacob Downing (NA) dec. Dylan Winters (SH) | 9-3 |
| 126 | Ian Scarberry (SH) dec. Gabe Falo (NA) | 3-0 |
| 132 | Luke Landefeld (NA) over Garrett Reinsfelder (SH) | DQ |
| 138 | Zach Stedeford (NA) dec. Eric Warren (SH) | 3-1 |
| 145 | Will Baierl (NA) pinned Ed Schearer (SH) | 2:34 |
| 152 | Jake Hinkson (NA) maj. dec. Jake Pollak (SH) | 11-3 |
| 160 | Jon Hoover (NA) dec. Jon Frazier (SH) | 5-0 |
| 170 | Jimmy Turici (NA) wbf | |
| 182 | Eric Hong (NA) wbf | |
| 195 | Jacon Fritsch (NA) pinned John Harker (SH) | 2:52 |