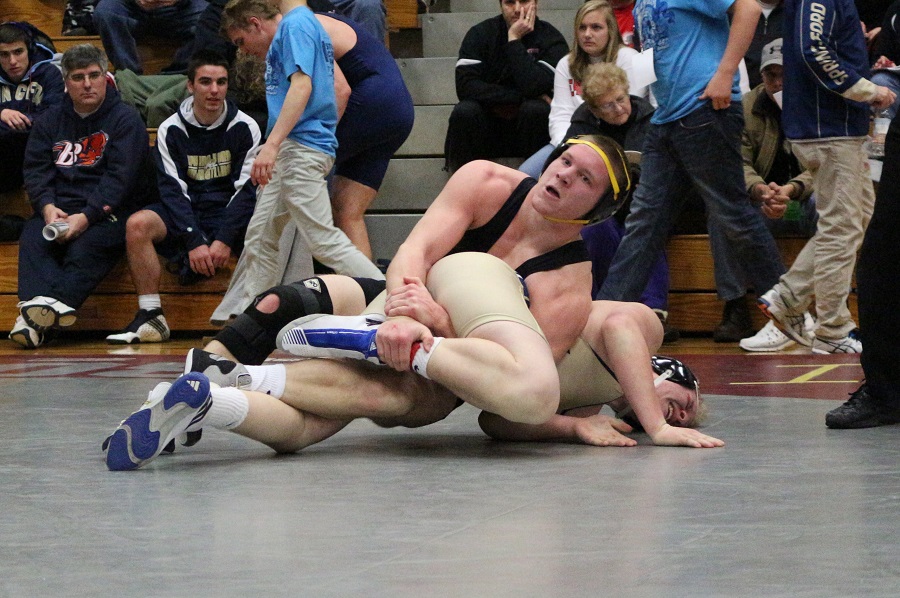 NA Grapplers Seize Sub-Section Title
North Allegheny clinched a Sub-Section 3A title on Wednesday night with a 46-23 triumph over the Pine-Richland Rams.  The Tigers trailed 23-21 after nine bouts but rolled off five straight wins, including three falls, to lock up the victory.
The meet opened at 160 pounds where Jake Woodley collected a fall over Tony Jones to give the Tigers a 6-0 lead.  After a major decision by PR's Brendan Burnham cut the score to 6-4, the Tigers received a 5-0 decision by Clay Byerly at 182 pounds and a Zach Smith fall over Brendan Scheller at 195 pounds for a 15-4 advantage.  However, the Rams won four of the next five bouts to take a 23-21 lead.
Undaunted, the Tigers grabbed the lead back on a major decision by Luke Landefeld at 126 pounds to bring the score to 25-23, Tigers.  A fall by Jake Hinkson over PR's Vittorio Orsini increased the Tigers advantage to 31-23 with three bouts to go.  A.J. Boeh followed with a 4-0 decision over David Kelly, and Sean Kalmeyer and Sean Hoover finished off the Rams with back-to-back falls to help the Tigers claim a 46-23 victory.
North Allegheny improves to 6-0 overall and 5-0 in Section 3-AAA.  The Tigers will take part in the Allegheny County Tournament this weekend ahead of the Section Championships next Wednesday night.  The Section Championships will be broadcast live via the internet on the North Allegheny Sports Network.
Wrestling Match Summary: NA vs. Pine-Richland
| Weight | Wrestlers | Score |
| --- | --- | --- |
| 160 | Jacob Woodley (NA) pinned Tony Jones (PR) | 1:31 |
| 170 | Brendan Burnham (PR) maj. dec. Jacob Fritch (NA) | 16-4 |
| 182 | Clay Byerly (NA) dec. Michael Geyer (PR) | 5-0 |
| 195 | Zach Smith (NA) pinned Brendan Schellar (PR) | 1:27 |
| 220 | Keegan Harris (PR) dec. Layne Skundruch (NA) | 3-2 |
| 285 | Jeff Clemens (NA) pinned Luke Krebs (PR) | 1:58 |
| 106 | Alex Salas (PR) maj. dec. Jacob Downing (NA) | 10-2 |
| 113 | Hunter Baxter (PR) pinned Gabe Falo (NA) | 3:45 |
| 120 | Garret Burnham (PR) pinned Harley Hartle (NA) | 4:29 |
| 126 | Luke Landefeld (NA) maj. dec. Ben Salas (PR) | 15-5 |
| 132 | Jake Hinkson (NA) pinned Vittorio Orsini (PR) | 5:23 |
| 138 | A.J. Boeh (NA) dec. David Kelly (PR) | 4-0 |
| 145 | Sean Kalmeyer (NA) pinned Justin McFarland (PR) | 3:54 |
| 152 | Sean Hoover (NA) pinned Ryan Means (PR) | 1:11 |