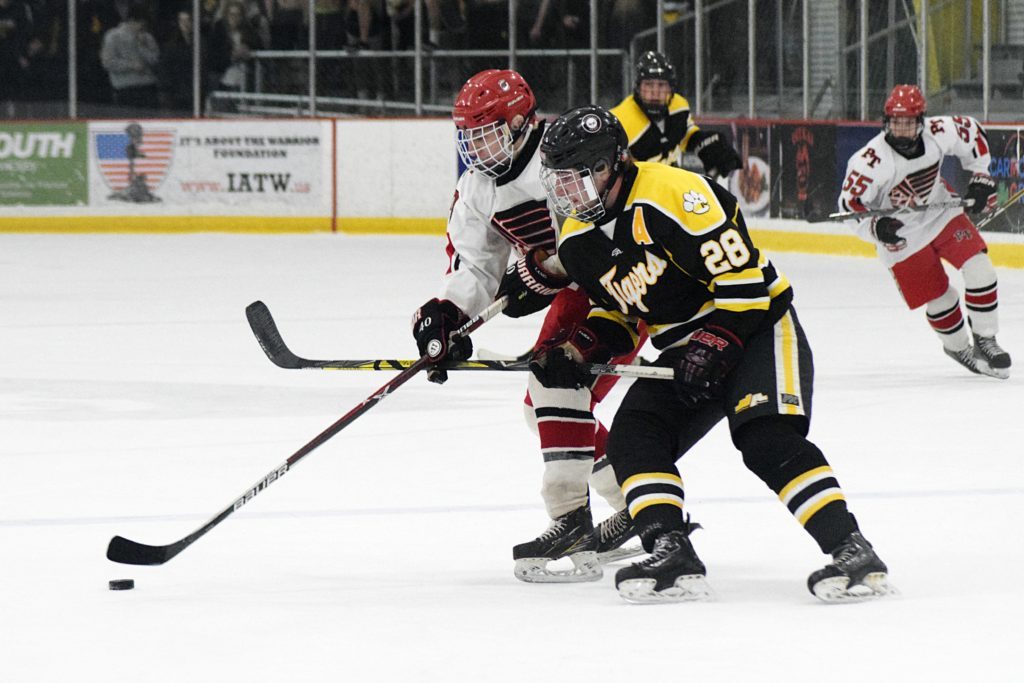 NA hangs on to defeat Peters Township, 5-3
By Jonathan Spina
Two of the three undefeated teams remaining in PIHL AAA met at Printscape Arena in Southpointe on Tuesday night. The Tigers scored the first four goals of the game and held on at the end to defeat Peters Township, 5-3. The game was a rematch of last year's PIHL semifinals in which the Indians edged the Tigers, 2-1.
North Allegheny got on the board a minute into the game when Dylan Watkins stole an Indians pass in the offensive zone and put it top shelf to give the Tigers a 1-0 lead. North Allegheny took a penalty with under a minute to go in the period, but goaltender Richard Karapandi and the Tiger defense was able to kill Peters Township's only power play chance of the night. After a period of play, NA led 1-0.
The Tigers exploded in the second period and they started early once again when Aaron Miller stole a pass in the offensive zone, put a great move on the Peters Township goalie, went to the backhand and put it in the back of the net, giving the Tigers a 2-0 lead. Peters Township's Alex Wilbert then took their first penalty of the game with 8:20 to go in the second period. Just as Wilbert was leaving the box, Justin Symons went through all four Peters defenders and put one top shelf to give North Allegheny a 3-0 lead. The Tigers got one more goal late in the second period when there was a scrum in front of the net and the puck came to Christopher Hanlon's stick, he was able to finish the job and improved North Allegheny's lead to 4-0 with a minute to go in the period. Peters picked up a goal with 30 seconds left and after two periods North Allegheny had a 4-1 lead.
The third period was mostly dominated by the Indians picking up two goals three minutes apart, making the game 4-3 with 3:44 remaining. The killer was when Peters Township took a slashing penalty with 1:26 remaining in the game, giving North Allegheny a power play for the remainder of the game. Peters then pulled their goalie and it was Watkins who scored the empty netter for his second of the game giving the Tigers a 5-3 lead that they wouldn't give up.
Karapandi was the Wright Automotive Player of the Game stopping 31 of 34 shots and making 16 saves in the third period to help preserve the victory.
The Tigers improve to 3-0-0 giving them six points on the year. They will be back in action next Monday when they take on Bethel Park (1-0-0) at the Baierl Ice Complex.
(Photo courtesy of Brian Mitchell, Pittsburgh Hockey Digest, burghhockey.com.)
Ice Hockey Summary vs. Peters Township, 10-16-18
| GAME SUMMARY | | | | |
| --- | --- | --- | --- | --- |
| SCORE BY PERIODS | 1 | 2 | 3 | FINAL |
| North Allegheny | 1 | 3 | 1 | 5 |
| Peters Township | 0 | 1 | 2 | 3 |