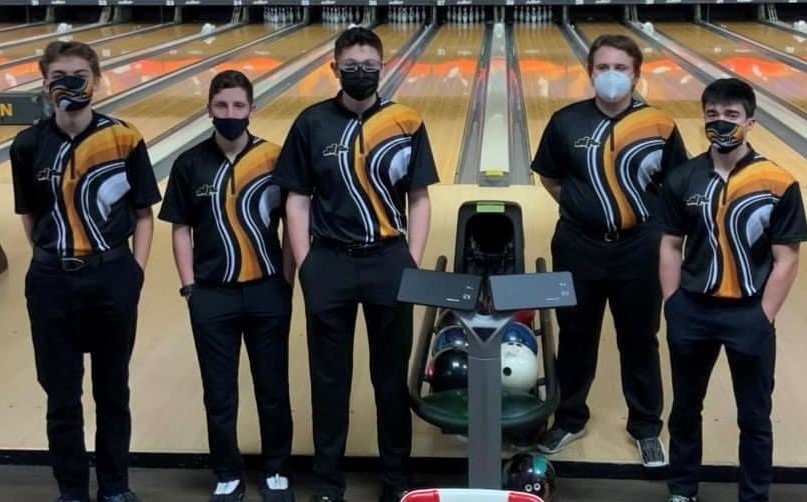 NA has Strong Showing at Western Regional Boys Singles Championships
Seventy-six of the region's best high school bowlers descended upon North Versailles Bowling Center on Friday to battle it out and earn one of the eight 8 coveted spots from Western PA in the Pennsylvania State Singles Championships.  Bowlers from south of Pittsburgh to as far north as Erie had to prequalify in order be invited to the Western Regional Championships.
The format was simple.  The eight bowlers that knocked over the most pins after five traditional games would go on to the stepladder finals and move on to the State tournament in two weeks.
North Allegheny was one of three high schools who qualified the highest number of bowlers to the competition.  Representing the Tigers were seniors Andrew Cook, Joey Lydon, and Dylan Scheidler as well as Juniors Jeb Jorden and Gavin Rush. 
Like the WPIBL qualifying singles event, the competition was bowled on a Kegel Challenge Series oil pattern.  This time the bowlers had to take on a 41-foot modified version of Stonehenge.  These sport patterns are designed for professional or highly experienced bowlers, allow no room for error, and even the most experienced bowlers can have a hard time figuring out their technique and timing with these patterns.  Unlike the WPIBL tournament where there were not many high scores, this pattern did not prove to be as difficult for these elite bowlers and elicited several high games throughout the day.
The competition began at 9am.  After game 1, Scheidler led the NA contingent with a 227 and sat in 5th place overall (Lydon-183, Jorden-171, Cook-168, Rush-162).  Scheidler continued captaining the ship and threw a 226 for game #2.  His fellow Tigers improved or maintained their scores in game 2 (Lydon-200, Jorden-195, Cook-192, Rush-161).  After 2 games Scheidler had bested some of the others on the leaderboard and moved into 3rd place.
In Game #3 the Tigers came alive, hit their stride, and many bowled their highest games thus far in the competition: Scheidler-266, Cook-236, Jorden-215, Rush-205, and Lydon-173.  Scheidler's game was the 3rd highest game thrown for any of the bowlers and he continued to increase his rank.  His 719 series for three games moved him into 2nd place with two games remaining.  Cook's game was the 7th highest and moved him into 24th place overall, Jorden-31, Lydon-46, and Rush-55.
Cook took control in game 4 and knocked over 225 pins, followed by Rush-204, Jorden-182, Lydon-172, and Scheidler-150.  Even with the slight misstep, Scheidler was able to retain a top 5 ranking and Cook moved up to 14th place edging closer to the cut.
Game #5 was another great performance for the Tigers. Cook and Scheidler both led with a 224, Jorden came up strong with a 216, followed by Rush's 183 and Lydon's 158.
At the end of the qualifications, Scheidler had survived the cut.  His 1093 was good enough for 5th place overall.  Cook's 1048 for the day, ranked him in 11th place, just below the 1063 needed to move on.  In any other year the top 12 singles players move on to the state tournament, but due to COVID-19 restrictions, the field was cropped to 8 players this year.  Jorden finished the day in 26th place, Rush-46th, and Lydon 54th.  As underclassmen, both Jorden and Rush, will have the opportunity to qualify next season.