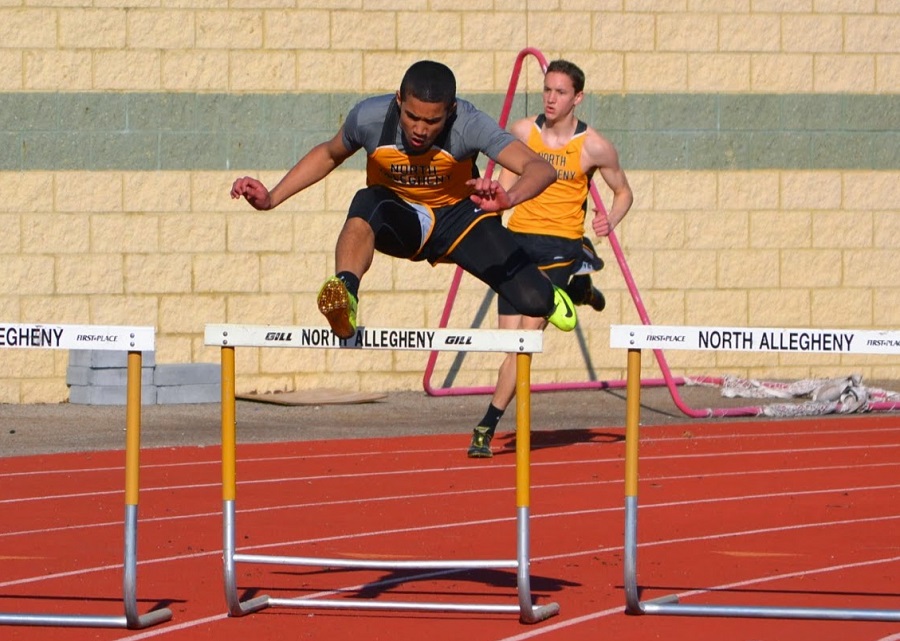 NA Hurdles Past Villa Maria, Cathedral Prep
On a sunny but chilly Friday afternoon the Tigers competed against Villa Maria and Cathedral Prep, both from Erie.  The Tiger hurdlers dominated their events as Emilie Raymond won the High Hurdle race and Josie Landis won the 300 Hurdles.  Sprinter Autumn Baldwin won the 200m Dash.  Freshman Ally Meehan led the distance crew securing her first win of the season in the 3200m Run.  Morgan Treser secured three places in her field events winning both the Shot Put and High Jump and earning second place in the Javelin.  Other winners in the field were Natalie Lewis in the Javelin, Maddie Mianzo in the Triple Jump and Hannah Fellers in the Pole Vault.
On the boy's side Ayden Owens won both hurdles races and also won the 100m Dash.  The distance crew was able to win every event at the meet with Zach Ehling in the 800m, senior Sam Blechman in the 1600m, and Marc Migliozzi in the 3200m.  Liam Nobbs was able to secure his first win in the Pole Vault while Josh Sanders outjumped the field in both the Long and Triple Jumps.  Will Thompson out-threw the competition in the Discus and newcomer Nicholas Vuono won the Shot Put.
The Tigers travel to Seneca Valley on Tuesday for their first sectional showdown of the season.