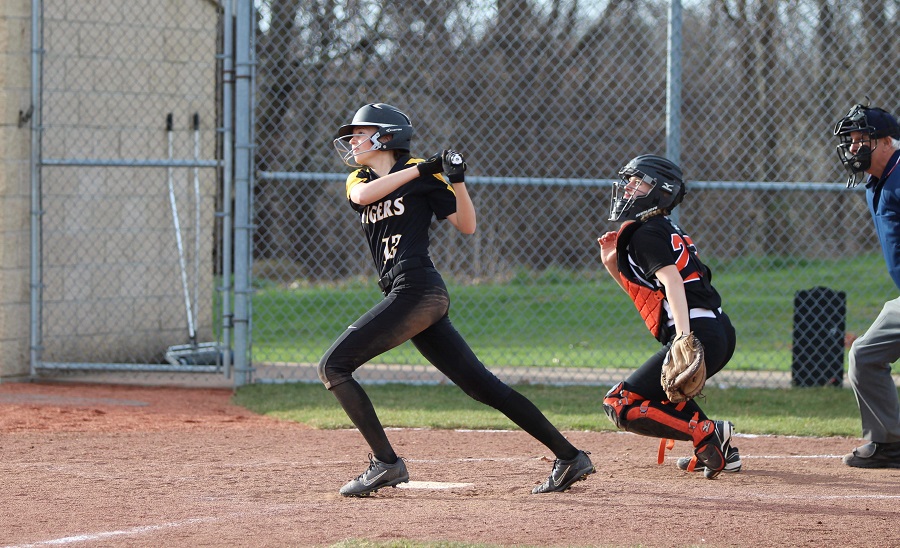 NA Offense Wins 5-Inning Affair with Howland
A strong offensive performance earned North Allegheny a 10-0 victory over Howland High School (Warren, OH) Saturday evening.
NA's offense came alive early and often, accumulating 15 hits in five innings of play.  Senior Rachel Martindale (3 for 3, 2 RBIs) led off in the first inning with a double and later scored on a single by senior Ashley Adams.  In the second inning, junior Bella Janowiak (3 for 3, 3 RBIs) doubled and was scored on a single by Martindale. 
In the bottom of the third, the NA Tigers tallied seven hits, including doubles by senior Kristen Chomos, Janowiak, and Martindale. RBIs were hit by senior Brooke Serbin, sophomore Chloe Sczcepaniak, and juniors Sophia Dollard and Janowiak.
In the final inning of play, NA scored 2 additional runs on hits by Dollard and junior Bri McDonough to end the game early.  Dollard pitched a complete 5-inning game, allowing only one hit and striking out one.
The Tigers improve to an overall record of 9-0. They are scheduled to play section opponent Fox Chapel at home on Monday at 7:00.
Box Score - Softball vs. Howland - 04/13/2019
| Score by Innings | 1 | 2 | 3 | 4 | 5 | 6 | 7 | R | H | E |
| --- | --- | --- | --- | --- | --- | --- | --- | --- | --- | --- |
| Howland | 0 | 0 | 0 | 0 | 0 | X | X | 0 | 1 | 1 |
| North Allegheny | 1 | 1 | 6 | 0 | 2 | X | X | 10 | 15 | 1 |
WP - Sophia Dollard (3-0) LP - M. Osborne