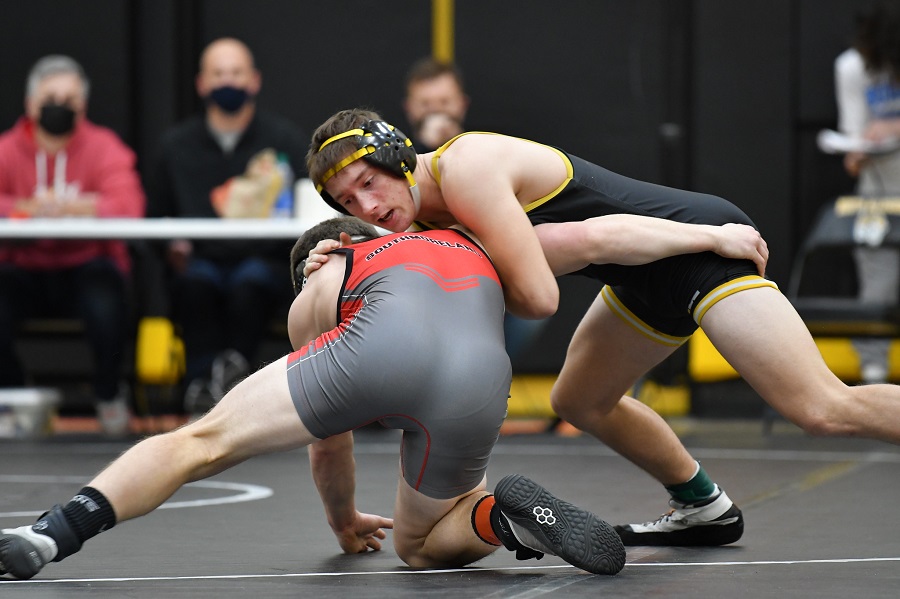 NA Opens Season With Team Title At Rick Link Invitational
The North Allegheny wrestling team opened the 2021-2022 season on Saturday and claimed a team championship at the Rick Link Invitational in Belmont, Ohio. The Tigers posted a team score of 300 to top the 18-team field and bested second-place Barnesville by 27 points. En route to the victory, North Allegheny also notched the most pinfalls of any team with 40 on the day.
The Tigers crowned three individual champions at the invitational, including sophomore William Bentrim (113), senior Dylan Coy (126) and sophomore Travis Stipetich (157). At 113 pounds, Bentrim pinned Hempfield's Owen Caracciola in 4:41 in the title bout. Creeping closer to the century mark for his career, Coy picked up five wins and three pinfalls to earn gold at 126 pounds. Coy earned a hard-fought 1-0 decision over Daktoa King of Barnesville in the title bout for his 95th career win. In the 157-pound bracket, Stipetich delivered three wins by fall, including a pin of Steubenville's Savier Faulks in 58 seconds in the championship bout.
In all, 13 NA grapplers finished in seventh place or better, including two silver medalists and four bronze. Senior Nick Caruso (157) and sophomore Aidan Buggey (215) each took second place in their respective weight classes. Four Tigers earned bronze medals, including sophomore Casey Walker (106), junior Nathan Monteparte (132), junior Jayson Flener (138) and sophomore Tyler Magorien (190). Walker led the Tigers in wins by fall at the tournament with four.
Junior Sam Horton (120) and Krist Vizcarra (144) each claimed fourth place finishes in their respective weight classes. Freshman Kellen Buggey earned a fifth-place finish at 165 pounds, sophomore Jayden Cullens took seventh place at 150 and Joseph Booth provided a 13th place showing at 285 pounds. For a look at all brackets and results from the Rick Lick Invitational, click here.
The North Allegheny wrestling team returns to action next weekend at the Panther Valley Holiday Tournament at Mt. Aloysius College.