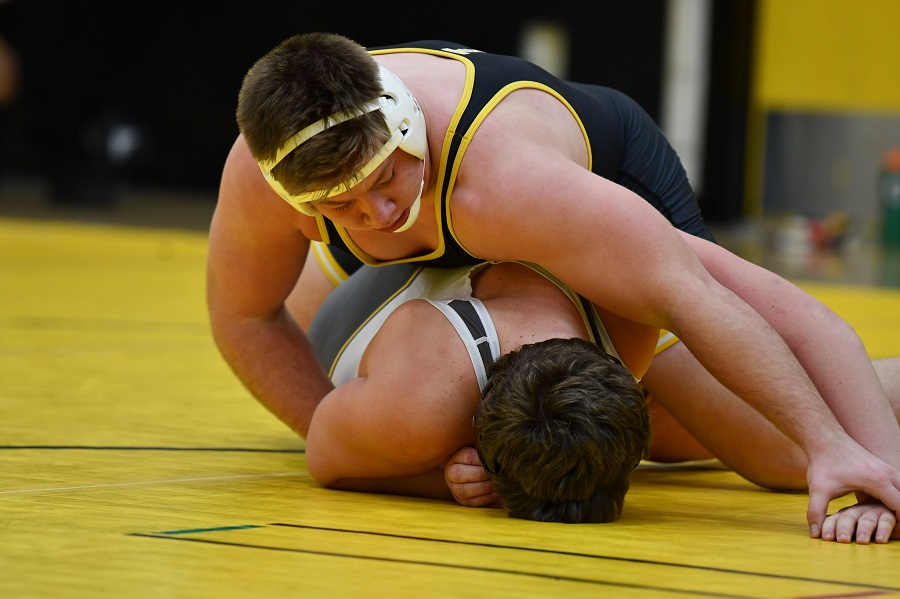 NA Reaches WPIAL Semifinals, Falls To Top-Seeded Waynesburg
The North Allegheny wrestling team reached the WPIAL semifinals on Wednesday night with a 53-9 victory over the Thomas Jefferson Jaguars in the quarterfinal round. However, in the semifinals, the Tigers ran into a juggernaut as the top-seeded Waynesburg Central Raiders defeated NA, 51-9.
Against Thomas Jefferson, the Tigers opened up a 21-0 lead in the first four bouts and cruised to the victory. Senior Brad Stipetich started the night at 145 pounds with a win by fall over Matt Herron, followed by a hard-fought 1-0 decision by Max Stedeford over Kale Buckiso at 145 pounds. For an outstanding effort, Stedeford was named the Wright Automotive Wrestler of the Match.
Leading 9-0 after the Stedeford victory, the Tigers increased the advantage to 21-0 with back-to-back pin falls by A.J. Rohan and Collin McCorkle at 152 and 160 pounds, respectively. Thomas Jefferson halted the momentum briefly with a pair of decision from Brian Finnerty and Trystan Alava, cutting the NA lead to 21-6. From that point on, the Tigers continued their domination by winning six of the next seven bouts to lock up the win. Down the stretch, NA received wins by fall from Brady Leczo (215), Dylan Coy (120) and Nathan Monteparte (132). Sophomore Nick Gorman added bonus points with a tech fall at 126 pounds over Nathan Krutules.
In the semifinals, top-seeded Waynesburg controlled the matchup and won 11 of the 13 bouts. McCorkle earned one of NA's victories with a thrilling 3-1 decision in overtime against Nate Stephenson at 160 pounds. For his efforts, McCorkle was named the Wright Automotive Wrestler of the Match. The Tigers other win came by forfeit for Gorman at 126 pounds.
Concluding the team portion of the season, North Allegheny finishes with 13-3 record. Next up for the NA wrestlers is the Subsection Individual Tournament on Thursday, February 18 at 5:00 p.m.
Wrestling Match Summary: NA vs. Thomas Jefferson
| Weight | Wrestlers | Score |
| --- | --- | --- |
| 138 | Bradley Stipetich (NA) pinned Matt Herron (TJ) | 2:20 |
| 145 | Max Stedeford (NA) dec. Kale Buckiso (TJ) | 1-0 |
| 152 | Adam Rohan (NA) pinned Michael Inks (TJ) | 2:50 |
| 160 | Collin McCorkle (NA) pinned Connor Falce (TJ) | 0:52 |
| 172 | Brian Finnerty (TJ) dec. Travis Stipetich (NA) | 8-3 |
| 189 | Trystan Alava (TJ) dec. Aiden Buggey (NA) | 2-1, OT |
| 215 | Brady Leczo (NA) pinned Jake Bertini (TJ) | 0:13 |
| 285 | Luke Rumpler (NA) dec. Alby Breisinger (TJ) | 6-3 |
| 106 | Casey Walker (NA) wbf | |
| 113 | Gabe Galioto (TJ) dec. Sam Horton (NA) | 9-2 |
| 120 | Dylan Coy (NA) pinned Aidan Stella (TJ) | 1:06 |
| 126 | Nicholas Gorman (NA) tech fall Nathan Krutules (TJ) | 16-1 |
| 132 | Nathan Monteparte (NA) pinned Brady Fitz (TJ) | 3:42 |
---
Wrestling Match Summary: NA vs. Waynesburg
| Weight | Wrestlers | Score |
| --- | --- | --- |
| 145 | Wyatt Henson (WAY) dec. Max Stedeford (NA) | 9-3 |
| 152 | Rocco Welsh (WAY) tech fall Adam Rohan (NA) | 20-5 |
| 160 | Collin McCorkle (NA) dec. Nate Stephenson (WAY) | 3-1, OT |
| 172 | Luca Augustine (WAY) pinned Travis Stipetich (NA) | 2:48 |
| 189 | Eli Makel (WAY) dec. Aiden Buggey (NA) | 1-0 |
| 215 | Noah Tustin (WAY) pinned Brady Leczo (NA) | 1:15 |
| 285 | Ryan Howard (WAY) pinned Luke Rumpler (NA) | 1:10 |
| 106 | Ky Szewczyk (WAY) maj. dec. Casey Walker (NA) | 16-7 |
| 113 | Joseph Simon (WAY) pinned Sam Horton (NA) | 1:24 |
| 120 | Mac Church (WAY) dec. Dylan Coy (NA) | 4-1 |
| 126 | Nicholas Gorman (NA) wbf | |
| 132 | Colton Stoneking (WAY) dec. Nathan Monteparte (NA) | 3-1 |
| 138 | Cole Homet (WAY) pinned Bradley Stipetich (NA) | 3:27 |