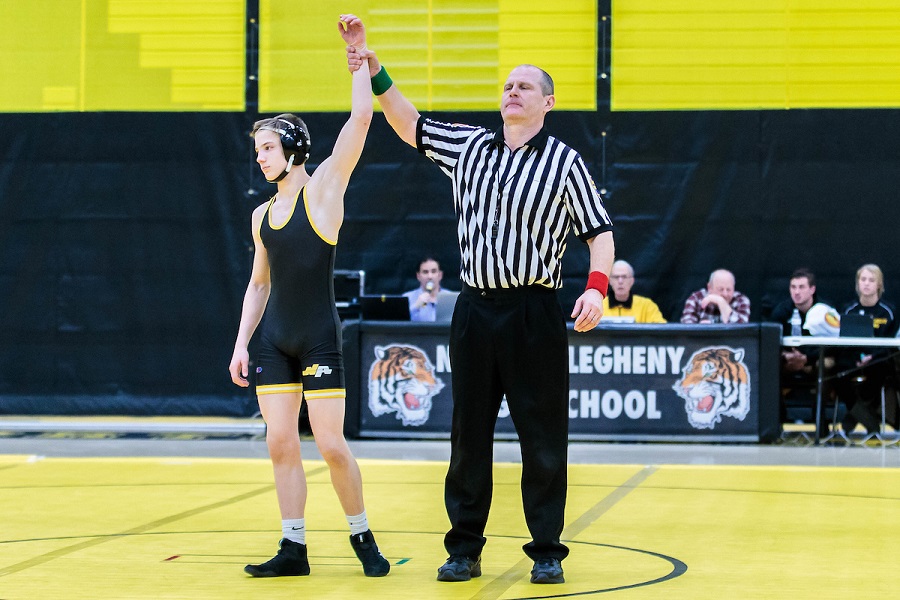 NA Rolls North Hills For Section Win, 50-30
The North Allegheny wrestling team earned an important 50-30 win at North Hills on Wednesday night in Section 3B-AAA action. The Tigers used four wins by fall in the early going to build a 27-0 lead and never looked back.
Andrew Wang (138), Nick Marcenelle (145), Jon Hoover (160) and Jacob Smalley (170) all posted pin falls in the first five bouts of the night. Manuel Batista added a 4-2 decision at 152 pounds over Ulrich Sobehart during the opening surge.
North Hills rallied with three straight victories to cut the score to 27-18 but the Tigers regained command with back-to-back wins by forfeit courtesy of Derek Devine (285) and Max Stedeford (106) for 39-18 lead.
The Tigers locked up the victory by winning two of the last four bouts, including a 17-0 tech fall by Freddy Junko at 120 pounds and a win by forfeit from Gabe Falo at 132 pounds.
North Allegheny improves to 3-1 in the subsection, while North Hills slips to 0-5. The Tigers return to action Thursday night against the Shaler Titans. The match will be broadcast live via the internet on the North Allegheny Sports Network.
Wrestling Match Summary: NA vs. North Hills
| Weight | Wrestlers | Score |
| --- | --- | --- |
| 138 | Andrew Wang (NA) pinned Jeremiah Azzarello (NH) | 4:53 |
| 145 | Nick Marcenelle (NA) pinned Zach Slagel (NH) | 0:52 |
| 152 | Manuel Batista (NA) dec. Ethan Uechi (NH) | 4-2 |
| 160 | Jon Hoover (NA) pinned Ulrich Sobehart (NH) | 1:02 |
| 170 | Jacob Smalley (NA) pinned Logan Perkins (NH) | 1:41 |
| 182 | Damon Thompson (NH) wbf | |
| 195 | Max Badamo (NH) pinned Pier Ferrara (NA) | 5:39 |
| 220 | Nate Brackman (NH) pinned Ben Grafton (NA) | 2:59 |
| 285 | Derek Devine (NA) wbf | |
| 106 | Max Stedeford (NA) wbf | |
| 113 | Jeremy MacPherson (NH) wbf | |
| 120 | Freddy Junko (NA) tech fall Zane Curry (NH) | 17-0 |
| 126 | Sam Hillegas (NH) pinned Jacob Downing (NA) | 3:44 |
| 132 | Gabe Falo (NA) wbf | |