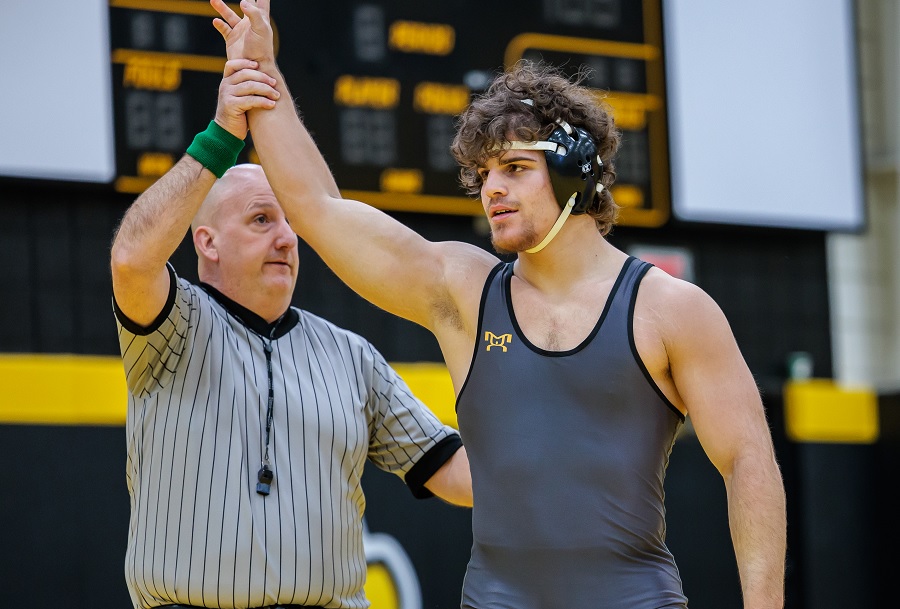 NA Rolls To Section Win Over Seneca Valley, 51-9
The North Allegheny boys' wrestling team returned to the win column with a dominant 51-9 victory over Seneca Valley in Section 2-AAA action.
The Tigers opened the night at 215 pounds with an impressive win by fall courtesy of junior Aidan Buggey over Thomas Wuycheck in 1:58. For his efforts, Buggey was named the Wright Automotive Wrestler of the Match.
Seneca Valley answered Buggey's win with a pin fall at 285 pounds by Roman Royal to tie the score at 6-6.  At 107 pounds, freshman Gus Stedeford gave NA the lead back with a win by fall over Hunter Tilotson for a 12-6 advantage. The Raiders trimmed the NA lead to 12-9 with a 7-3 decision by Connor Smith at 114 pounds. The victory by Smith, however, was the last of the night for the visiting Raiders.
North Allegheny finished the evening by taking nine consecutive bouts and coasted to a 51-9 triumph. Earning wins by fall for the Tigers during their stretch run were Jayson Flener (145) and Adam Rohan (160).
With the win, North Allegheny improves to 9-4 overall and 3-1 in Section 2-AAA. Seneca Valley slips to 1-3 in the section. The Tigers will take part in the annual Allegheny County Tournament over the weekend at Fox Chapel High School.
Wrestling Match Summary: NA vs. Seneca Valley
| Weight | Wrestlers | Score |
| --- | --- | --- |
| 215 | Aidan Buggey (NA) pinned Thomas Wuycheck (SV) | 1:58 |
| 285 | Roman Royal (SV) pinned Anthony Spivak | 1:59 |
| 107 | Gus Stedeford (NA) pinned Hunter Tilotson (SV) | 3:11 |
| 114 | Connor Smith (SV) dec. Casey Walker (NA) | 7-3 |
| 121 | Griffen Reid (NA) dec. Jack Tofanelli (SV) | 3-2 |
| 127 | William Bentrim (NA) wbf | |
| 133 | Nathan Monteparte (NA) dec. Zach Hill (SV) | 11-10 |
| 139 | Sam Horton (NA) wbf | |
| 145 | Jayson Flener (NA) pinned Angel Kristo (SV) | 2:21 |
| 152 | Kellen Buggey (NA) dec. Jacob Eubanks (SV) | 10-4 |
| 160 | Adam Rohan (NA) pinned Corey Wolfe (SV) | 3:31 |
| 172 | Michael Hershberger (NA) dec. John Mallery (SV) | 9-2 |
| 189 | Mason Hartung (NA) dec. Rylan Wagner (SV) | 11-4 |