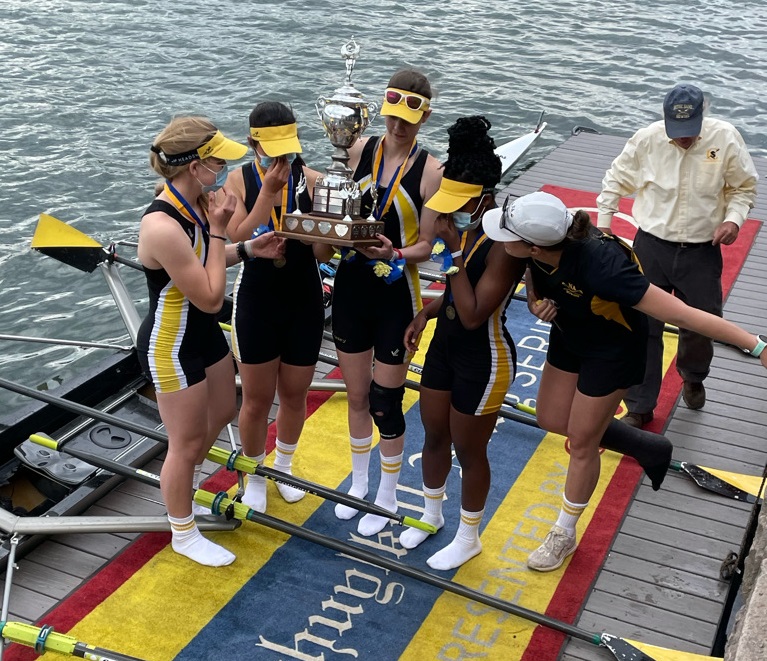 NA Rowing Claims Ruth Robinhold Trophy
North Allegheny Rowing traveled to Philadelphia PA 5/13 & 14 to compete in the 94th Annual Stotesbury Cup regatta, the nation's largest scholastic regatta. The Tigers entered a Boys Junior 4+, Girls Novice 4x, Girls Jr 2x, Girls Lwt 2x, and Girls Jr 4x. The last three of these entries placed in the top half of their fields and progressed to Semi-Finals Saturday. The Girls Junior 4x posted the fastest time in their event.
Saturday's racing started with the Girls Jr 2x composed of Aine Ridenour and Felicity Smith, who concluded their weekend with a 5th place finish in the Semi. The Lightweight 2x of Charlotte Bentrim and Rachel Lessure placed 3rd in their semi, securing lane 6 in the grand final later that afternoon. The Girls Junior 4x managed to recover from a course-altering crab at the 300-meter mark in their semi and fought back to first place securing lane 3 for the grand final and retaining their first-place ranking in the field.
Grand Finals for the Tigers began with the Lwt 2x at 1:40 pm. The field was tight from the start, Bentrim and Lessure fought hard and ultimately finished 6th. At 3:10 pm the Junior 4x of Alexandra Junko, Tabo Mkandawire, Mirae Choe, and Ashley Zeman took a solid hold off the start which they maintained throughout the 1500 meter course, finishing first in a time of 5:44.34. The Ruth Robinhold Trophy will be displayed in the NASH trophy case until next year's regatta.