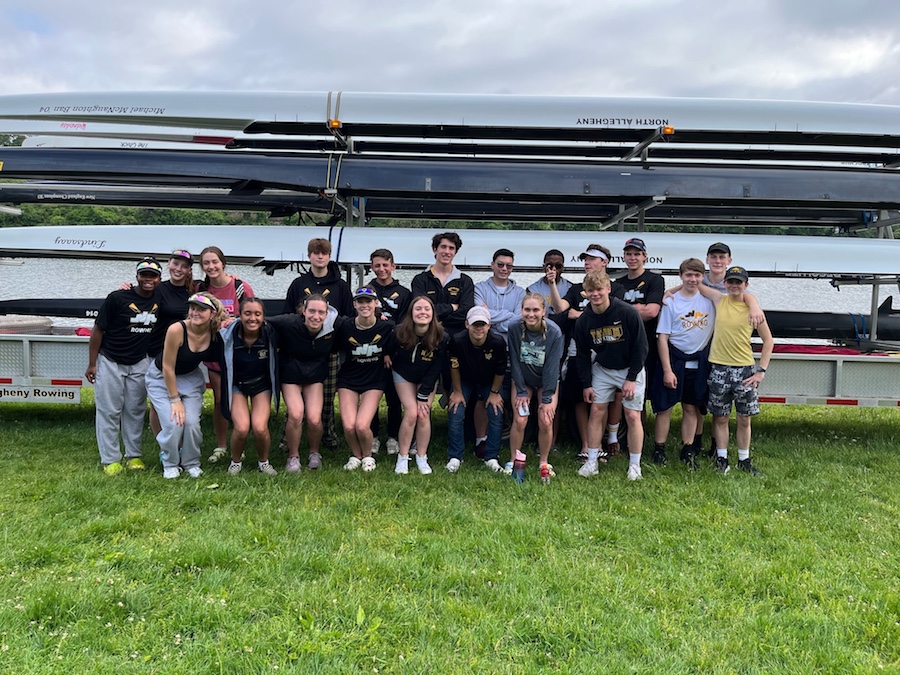 NA Rowing Competes At Prestigious Stotesbury Cup
Five select NA Line-ups traveled across the state to the world's Largest Scholastic Regatta, The Stotesbury Cup Regatta in Philadelphia PA.
Friday began with Time Trials for the team , with boats needing to place in the top 12 or 18 of fields of up to 57 boats. The Boys Junior 4+ line up consisted of Novices Cooper Lemon, Carson Carona, Roman Bellisario, Christian Sperandeo with Coxswain Lucas Pater placed 35th.
Next the Girls Junior 4+ returned to the Stotes course this year with the goal of progressing out of time trials after just missing doing so last year. The Tigers secured the required 18th place and were set to race later that afternoon (Alana Boronski, Sawyer Wright, Athena Huber, Kathy Zema Coxswain Evie Disque).
The first Tigers sculling line up to row was the Boys Junior 4x (Miles Rees, Josh Dubovecky, Tony Bertucci, Layton Wright) The Tigers posted a time of 5:34.98 missing progression on to Semis. The GIrls & Boys Senior Quads followed close behind and placed 6th & 11th in their field to race again the next morning (Tabo Mkandawire, Alex Witzel, Lorelei Schreiber Aine Rideour) & (Braden Lemon, Zach Stamper, Jackson Stamper, Caleb Sanders).
Friday wrapped up with the Junior 4+'s evening Semi Disque led the tigers down the course in lane 6 and in a hard fought race placed 6th and ending their pursuit at Stotes for 2023.
Saturday's weather was consistent hazy rain, no wind and flat water, great weather for Semis and Finals day. The day kicked off the Girls Senior 4x in Semi II, lane 2 in a tight front pack ultimately placing 3rd and securing an outside lane for themselves in the Grand Final later in the day. The Senior Boys 4x came down the course immediately behind them in lane 6 and with an impressive sprint on the outside they placed 5th by just .06 ahead of Ridgewood. Needing top 3 they would not progress but did improve over late years placement at the event. 
After a long afternoon of rest in the team tent the Girls Senior 4x took to the course one last time for the 2023 season in lane 6 of the Grand Final. Makandawire, Witzel, Schreiber & Ridenour set the intention of pushing their stroke rate and starting their final sprint earlier, not letting any opportunities pass them by and they executed beautifully. The line up pushed through the first half of the course in a tight pack that ultimately separated with 400 meters to go, in the final strokes the Tigers came out in 5th by just 0.6 over 6th place.