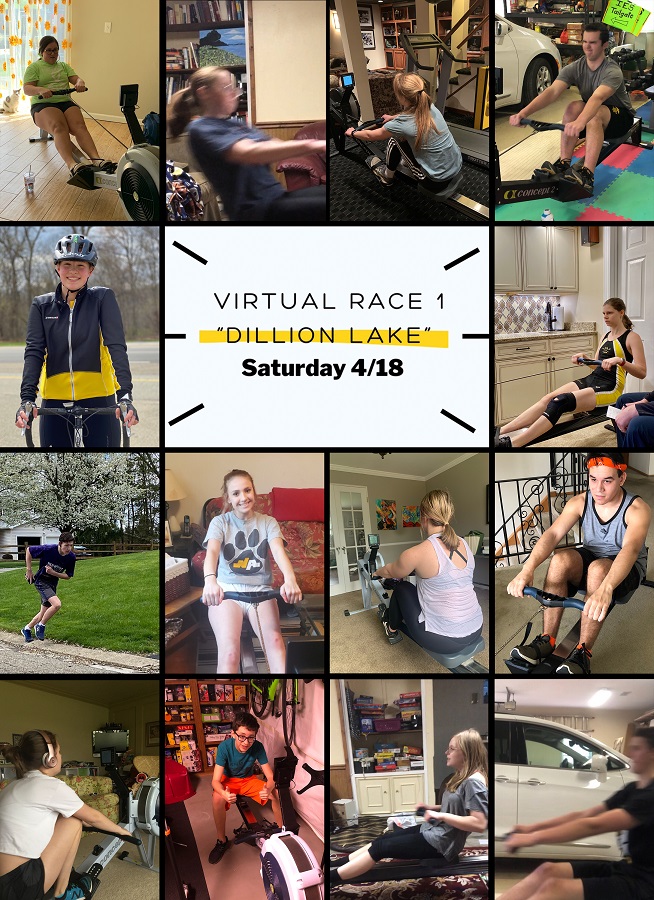 NA Rowing Virtual Race 1: Dillon Lake
In the absence of a traditional racing season, NA Rowing and other PGH rowing programs have arranged a Virtual Racing Series. Coaches register their athletes in line ups & events similar to what they might have raced in this season. As not all athletes have access to a rowing machine (erg) at home, there are three options for competing: athletes can erg 2000 meters, run 1 mile or bike 3 miles. (Middle school athletes complete ½ distances) On race day, athletes submit their results via a google form for each race that they are entered in. The line-up's average time is calculated by race officials resulting in the boats final time, which is compared to their competition.
Virtual Race 1, Dillion Lake ran on Saturday 4/18, the same day that would have been NA's season opening regatta, of the same name. The Tigers competed in 12-line ups across nine events against North Catholic, Oakland Catholic, Mt. Lebanon and Fox Chapel.
On the women's side NA took first place in the Womens 2x (Mirae Choe & Alexandra Junko) & Novice 4+ (Tabo Mkandawire, Charlotte Bentrim, Felicity Smith & Aine Ridenour) Women's second place finishes included the 4x (Mirae Choe. Alexandra Junko, Ashley Zeman & Rachel Lessure), the JV4+ (Ally Harder, Sonia Lofgren, Johanna Edfors & Emma Brunger) and the Coxswains race (Kelly Tolan). The NA women also took third in the Coxswains race (Addy Cooper).
For the men, The Novice 4+ took first (Braden Lemon, Caleb Sanders, Evan Greenberg & Tristan Atreel). NA took both second & third in the Varsity 4+ (Matthew Bakkenist, Erick Ilkanipour, Nathan Greenberg & Ryan (Jackson) Rogers) and (Micah Witzel, Michael Urich, Derek Oczypok & Wyatt Skopov-Normane *Lwt 4+).
The Tigers will race again in VR2: Pittsburgh Sprints, on May 2.