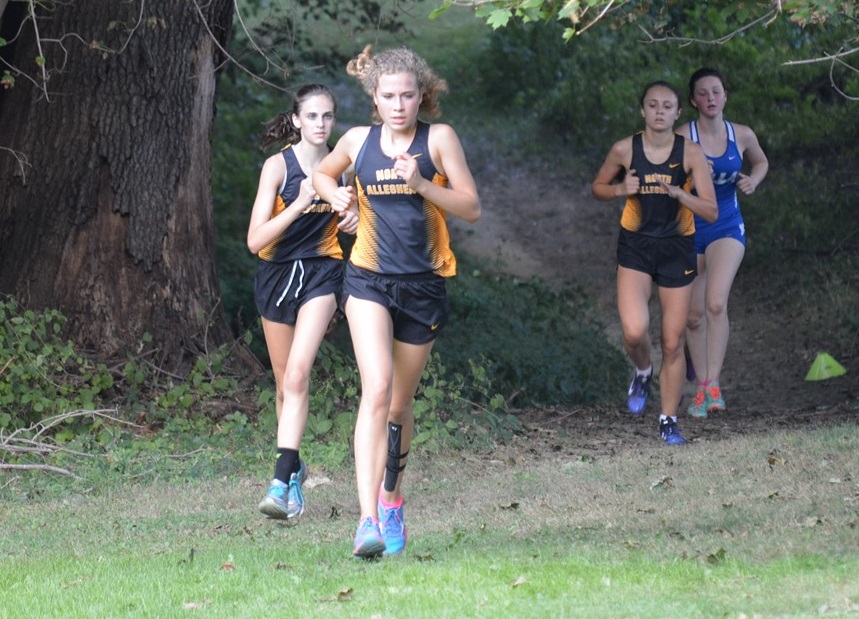 NA Runs Strong At Red, White & Blue Classic
The NA cross country teams set their alarm clock early Saturday morning to travel to Schenley Park for the 14th Annual Red, White, and Blue Classic.  Both teams fared well on the hot day in Pittsburgh, with the girls placing 7th out of 36 teams and the boys 1st out of 35 teams.
On the girls' side, a strong finish by freshman phenom, Hannah Lindgren, led the tigers.  Lindgren clocked in at 20:57 for her first ever cross country invitational race.  Finishing six seconds later was junior Tess Wright.  Third for NA was junior, Ali Christy in her first season running cross country.  Rounding the scoring for the Lady Tigers were Ally Meehan (sophomore), Kara Daggett (senior), Janet Wang (junior), and Selin Cetin.
The boys raced as a tight pack for the second meet in the row.  They finished with a jaw-dropping spread of 7.6 seconds, with the top 5 all placing in the top 22 of the race.  Leading the defending WPIAL champs was senior, Clark Smith.  Smith was very strong over the last kilometer, clocking in with a time of 17:01.  He was closely followed by sophomore, Luke Turkovich.  Rounding out the top five were Jacob Greco (senior), Dan McGoey (freshman), and Cam Phillips (junior).  Displacing every other team's 5th runner was T. J. Robinson (junior) and Mark Hartigan (senior).  The team score for the Tigers was 94 points, and the closest team was 52 points behind.
The Tigers get just one day of rest before they hit the road again for a dual meet against Butler and Knoch this Monday.