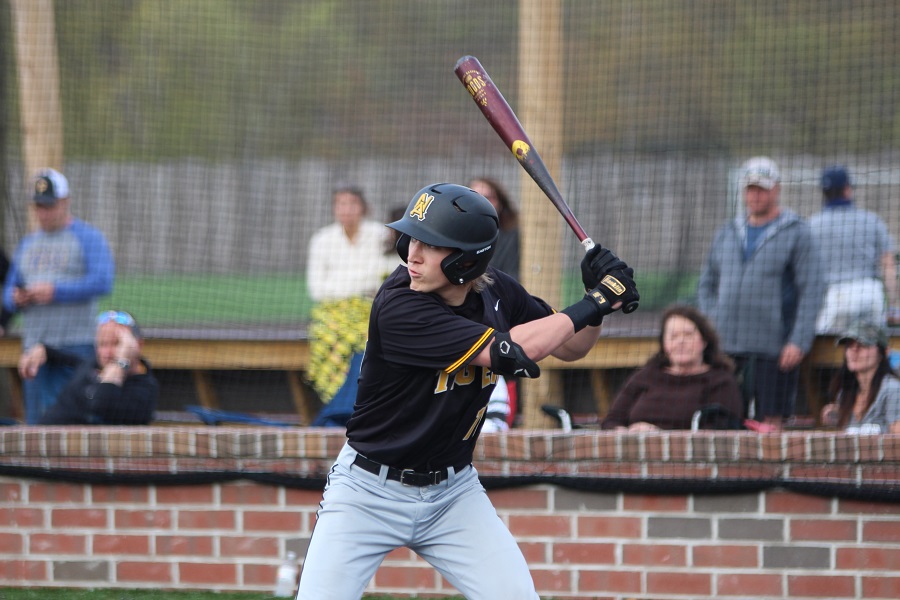 NA Secures Section Title With Comeback Win Over Pine-Richland, 8-7
The North Allegheny baseball team rallied from a 6-2 deficit for a thrilling 8-7 win over Pine-Richland to secure the Section 1-6A title on Wednesday afternoon at the No Offseason Complex in Russelton. In a game that featured six home runs, the Tigers outslugged the host Rams with two home runs from Spencer Barnett and a solo bomb from Danny Gallon. The win was North Allegheny's third in a row against its section rival and fourth straight overall.
The Tigers took an early 1-0 lead when Ethan Gavlik scored on a PR error in the top of the first inning. However, the Rams started the day-long trend of the long ball in the bottom of the first with a first pitch homer from Joey Woodrow to tie the game at 1-1. Later in the inning, Brian Komaromy drove a three-run homer over the leftfield fence to give Pine-Richland a 4-1 lead.
North Allegheny cut the score to 4-2, Rams, on an RBI single by Erik Sundgren to plate Aaron Galaska in the top of the second. Pine-Richland got the run right back in the bottom of the fifth on a North Allegheny error and increased the lead to 6-2 in the bottom of the fourth courtesy of a solo home run by Joseph Connell.
Undaunted, the Tigers flexed their muscles in the top of the fifth inning with a three-run roundtripper by Barnett to cut the deficit to 6-5. A Logan Andreyko RBI single scored Brody Meyers later in the inning to even the score at 6-6.
The game didn't stay tied for long as Pine-Richland grabbed the lead back, and seemingly the momentum as well, in the bottom of the fifth on a bases load walk by Andy Swartout for a 7-6 lead.
Again, North Allegheny's big bats rose to the occasion in the top of the sixth inning as Gallon and Barnett clubbed back-to-back solo homers on consecutive pitches to take an 8-7 lead. It was Gallon's first home run of the season and Barnett's second of the game and fifth of the year.
Reliever Joe Lang, who entered the game in the fourth inning, made sure the lead would stand as he pitched the final 2.2 innings scoreless to earn his third victory of the season. Pine-Richland reliever Justin Dietz suffered the loss, surrendering the two home runs in the sixth.
With the win, North Allegheny improves to 14-2 overall and 8-1 in Section 1-6A. Pine-Richland, who has already been eliminated from postseason contention, falls to 6-9 overall and 3-6 in section play. The two teams will round out the section slate on Thursday night in a rematch at North Allegheny at 7:00 p.m.
Box Score - Baseball vs. Pine-Richland - 05/05/2021
| Score by Innings | 1 | 2 | 3 | 4 | 5 | 6 | 7 | R | H | E |
| --- | --- | --- | --- | --- | --- | --- | --- | --- | --- | --- |
| North Allegheny | 1 | 1 | 0 | 0 | 4 | 2 | 0 | 8 | 13 | 2 |
| Pine-Richland | 4 | 1 | 0 | 1 | 1 | 0 | 0 | 7 | 8 | 1 |
WP - Joe Lang (3-1) LP - Justin Dietz